Carne Asada Casserole with Waffled Potatoes ~ A comfort potato casserole with a few side-kicks. Add carne asada for a protein infusion, then fold in some green chiles for a little heat. This comes together in minutes and will disappear in seconds!
I'm all about no-fuss casseroles like this. It works especially well when you are balancing quarantine summer, kids and work. If it were up to my boys, they would be shouting out custom meal orders every hour with all the urgency of an auctioneer. To avoid being on the other end of that, as a line cook for their every whim, casseroles like this pull double-duty as dinner and next-day lunches.
It's the kind of dish no one minds having as leftovers the next day. This is alot like soup in that, it gets better as it ages overnight.
Before we get started on the recipe for this Carne Asada Casserole, let's go through a few things:
Can the potatoes cook in the casserole rather than baking them prior to the assembly?
Yes, but for the extra crispy and toothsome texture, baking before assembly is best.
Can the potatoes be swapped our for another vegetable?
Any vegetable that bakes well, will do well, i.e. broccoli, cauliflower, sweet potatoes. If you do make this recipe with one of the listed vegetables, please come back and let the rest of us know what you think in the comment section.
Can this be made sans the cream of chicken?
It definitely can be, head to this hash brown casserole to see how. Follow the base recipe there, minus the diced ham. You will also of course, subtract the sour cream and cream of chicken soup from the recipe here.
For a few more casserole recipes, be sure to check out:
Sloppy Joe Casserole, Buffalo Chicken and Potato Casserole, Pork and Polenta Bake
Yield: Serves 6 - 8
Carne Asada Casserole with Waffled Potatoes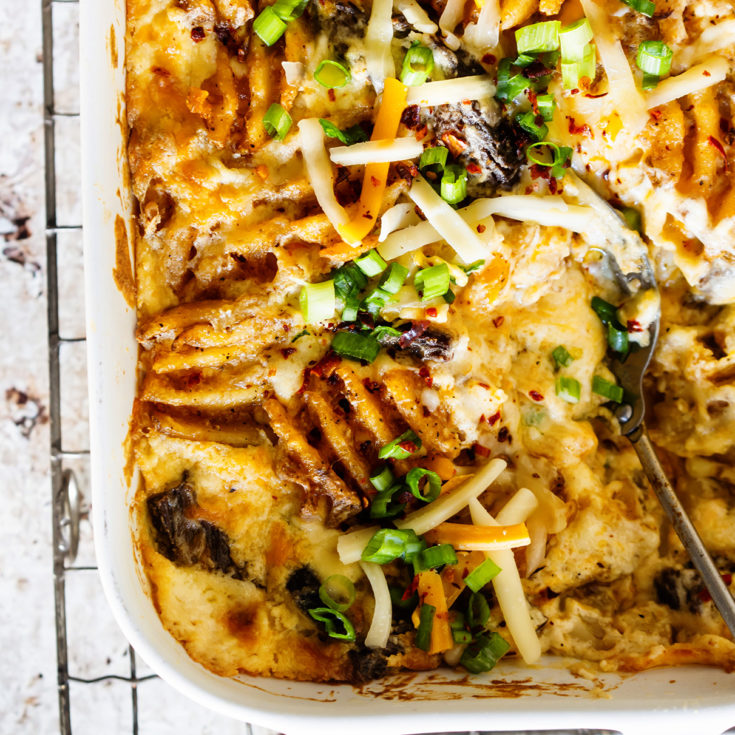 A crowd pleasing comfort casserole.

Prep Time 25 minutes

Cook Time 45 minutes

Total Time 1 hour 10 minutes
Ingredients
• 24oz. Grown in Idaho Super Crispy Waffle Fries, cooked according to package instructions
• 1 lb. carne asada, cooked
• 8 oz. Mexican cheese, divided use
• 2 cups sour cream
• 1 10.34 oz. cream of chicken soup
• 1 4 oz. can of green chiles
• 2 teaspoons garlic powder
-Topping
• cheese
• green onions
• red pepper flakes
Instructions
Heat oven to 350F. In a large bowl combine all ingredients except toppings. Scrape mixture into a 3qt. casserole pan. Bake until mixture bubbles and top becomes golden, about 45 minutes. Remove from oven and set aside for ten minutes. Top with jalapeños, peppers cheese and chives when ready to serve.