As I've mentioned, this is a house of picky eaters, but there are a few things that are always guaranteed hits, caramel popcorn being one of them. My sister came over to visit our new baby last week and brought the most incredible caramel popcorn I have ever had. One little bag for each of the older boys and one huge feedbag for Naomi and me. She knows what's up, a bag for each boy keeps any arguments of who's eating more at bay. While the popcorn was amazing, it was a bit more than we could eat, so I decided to get creative with what you see here, these Caramel Popcorn S'mores Krispie Squares.
And let me tell you this, they were amazing! A bit softer and chewier than the traditional Rice Krispie treat but every bit as gooey and marshmallow-y. Not only was I super pleased with the way they turned out, I was so happy to use the popcorn before it got stale, which always happens, right? Did I mention this was pretty darn easy to? Extremely. Quick & easy – just melt, mix, stir & press, done! You end up with an awesome treat that is chocolate-y & salty and hits all the right taste buds. I'm thinking next time, I will add in some peanuts for a Cracker Jack-like flavor.
So be the hero of the day in your house and give these Caramel Popcorn S'mores Krispie Squares a shot. They are a perfect summer treat!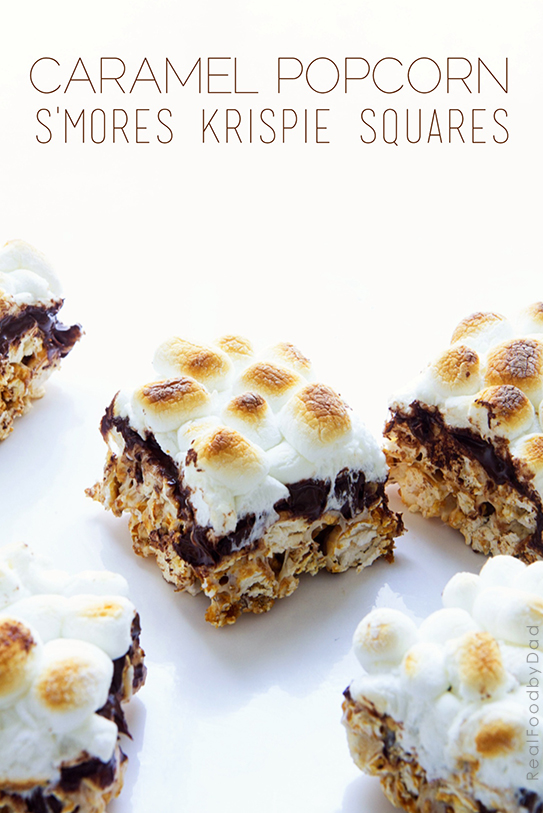 Caramel Popcorn S'mores Krispie Squares
By Matt Robinson Published: June 1, 2014
As I've mentioned, this is a house of picky eaters, but there are a few things that are always guaranteed hits, caramel popcorn being …
Ingredients
Instructions
Preparation: Line a 9x9 pan with foil, leaving an overhang of 1 inch on each side. Place butter and mini marshmallows in a pan over medium low heat, stir until fully melted. Alternately, place in a microwave safe bowl and heat on high for 1-2 minutes (or until melted and smooth) in 30-second bursts, stirring in between.

Mix and stir in caramel popcorn until well combined. Press mixture into prepared pan; set aside. Place chocolate and shortening in in a microwave safe bowl and heat on high for 1-2 minutes (or until melted and smooth) in 30-second bursts, stirring in between. Pour and spread mixture on top.

Sprinkle remaining 4 cups of marshmallows on top and place under broiler set at high for 2-3 minutes or until marshmallows turn golden and toasted. Keep a watchful eye, as the marshmallows go from golden to burnt in a matter of seconds. Allow to cool for ten minutes before serving.

**NOTES** (1) These are best eaten the day they are made. (2) For ease of cutting, cover knife with a light coat of non-stick spray and wipe it down in between cuts