Today, I'm partnering with the

Grain Foods Foundation

 to bring you a T
hanksgiving dish. It's so close and I can't wait! Although all of this Thanksgiving recipe-testing is giving me some holiday food fatigue. Am I allowed to say that as a food blogger?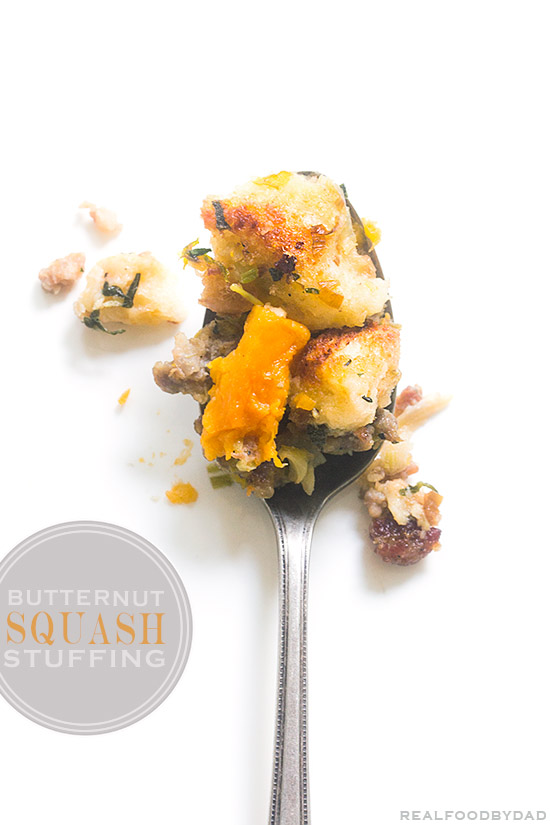 Too late. But it's true, I've been doing Thanksgiving a month in advance.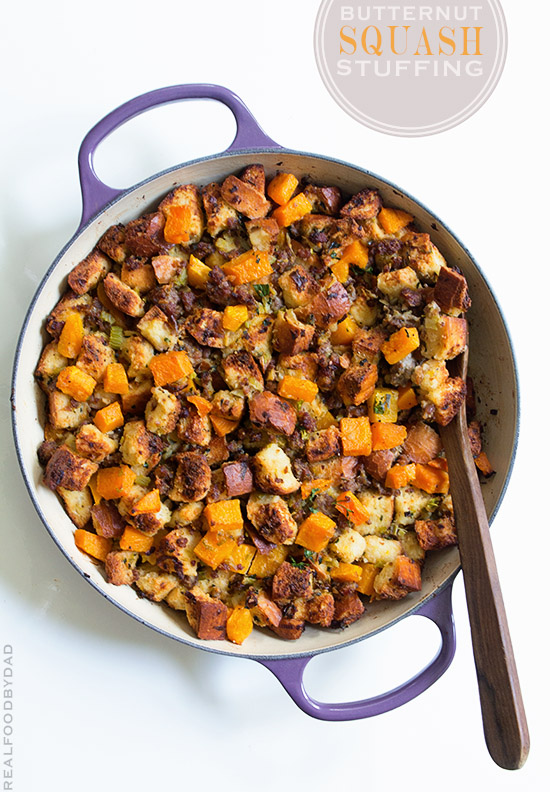 Thankfully, this Thanksgiving (okay, every Thanksgiving), Naomi, my mom and sisters have it handled and I get to sit, fill-up and watch Planes, Trains and Automobiles. It's tradition . . . the movie.
As for the food, I'm happy to jump in, but they like their tradition and who am I to ruin a good thing.  Right?
But when that time comes and I'm called to make something, this is what I'm making—this Butternut Squash and Sausage Stuffing. It's awesome.  Centered around a generous amount of rustic bread, it's complimented by the sweetness of roasted butternut squash, which is the perfect offset to the rest of the savory ensemble.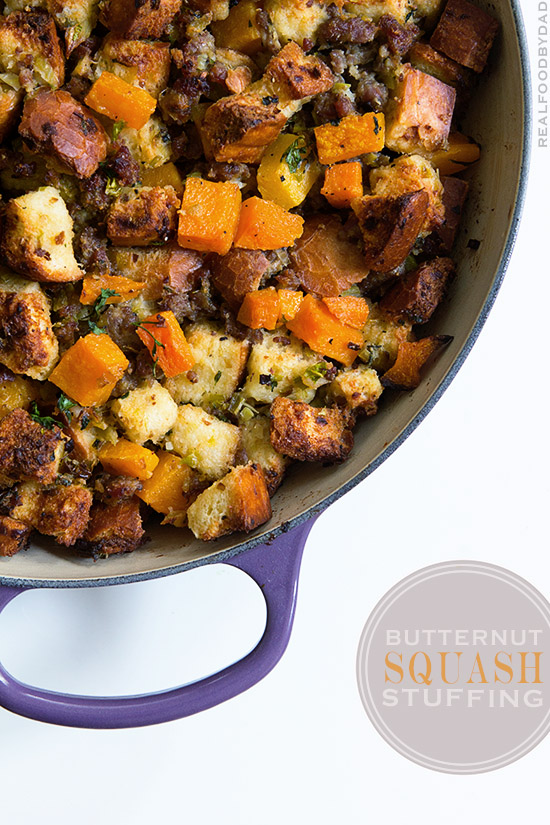 Of course you can adapt this all kinds of ways, replace the heavy cream for chicken stock to make a lighter version of this stuffing, swap out the butternut squash for mushrooms, add nuts for crunch and flavor, use cornbread instead of the rustic bread featured in the recipe here, add in some wild rice. Whatever you do, don't forget the grains–it's what makes stuffing and it's good for your brain! Really it is. Now, see what I mean? This recipe is super adaptable, so tweak it to what you like.

Butternut Squash Stuffing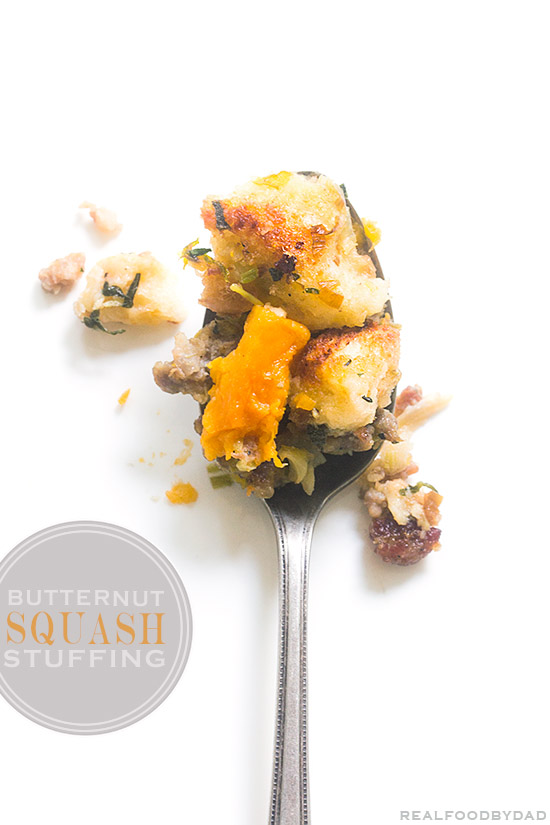 Ingredients
Nonstick vegetable oil spray
4 cups butternut squash, cubed to ½ inch (about 2 lbs.)
1/2 cup unsalted butter
1 1/2 cups chopped leeks
1 1/2 cups chopped celery (3 to 4 stalks)
1 cup coarsely chopped fennel (about half of 1 medium)
1 lb. pound sweet Italian sausage
1/4 cup chopped fresh Italian parsley
2 tablespoons chopped fresh sage
2 tablespoons chopped fresh marjoram
12 cups (generous) 1-inch cubes day-old pain rustic bread with crust (about 1 1/4 pounds)
3 large eggs
1 teaspoons fine sea salt
1 teaspoon coarsely ground black pepper
1/2 cup finely grated parmesan cheese
1 1/2 cup low-salt chicken stock
Instructions
Heat oven to 400°F. Place butternut squash on a bake sheet in single layer. Drizzle olive oil on top and sprinkle lightly with salt and pepper; toss to coat. Roast until tender, stirring occasionally, about 20 minutes. Transfer to a large bowl to cool.
Melt butter in heavy bottom large skillet over medium heat. Add leeks, celery, and fennel. Cook for 8 minutes. Add sausage. Cook until vegetables are tender and sausage is cooked through, breaking up sausage while cooking, about 10 minutes. Add all herbs; stir and cook 1 minute longer. Add to bowl with butternut squash. DO AHEAD: This portion can be made 1 day ahead. Cool, cover, and chill.
Heat oven to 350°F. Divide bread between 2 rimmed baking sheets. Bake until bread is crusty but not hard, reversing sheets after 5 minutes, 10 to 12 minutes total. Transfer to very large bowl and cool.
Butter 13x9x2-inch baking dish. In a bowl, whisk together salt, pepper and Parmesan cheese. Add chicken stock and eggs; whisk to combine. Pour 1 cup of liquid over bread and vegetable mixture tossing to combine evenly and adding more liquid by 1/4 cup as needed if dry. Transfer stuffing to prepared dish.
Bake stuffing uncovered until cooked through and brown and crusty on top, 60 minutes. Let stand 10 minutes.
Notes
Recipe heavily adapted from here.


Disclaimer: This post is sponsored by the Grain Foods Foundation. All opinions are my own.