**This is a sponsored post in collaboration with Knorr Selects.
'Tis the season for all things butternut squash, right? I'm ready to have it in just about anything, especially this Butternut Squash and Sausage Single-Serve Casserole. You can easily make this recipe in one big casserole pan, but the single serve is fun and it keeps my boys from picking through and eating all the sausage and Naomi cherry picking butternut squash to load up her serving.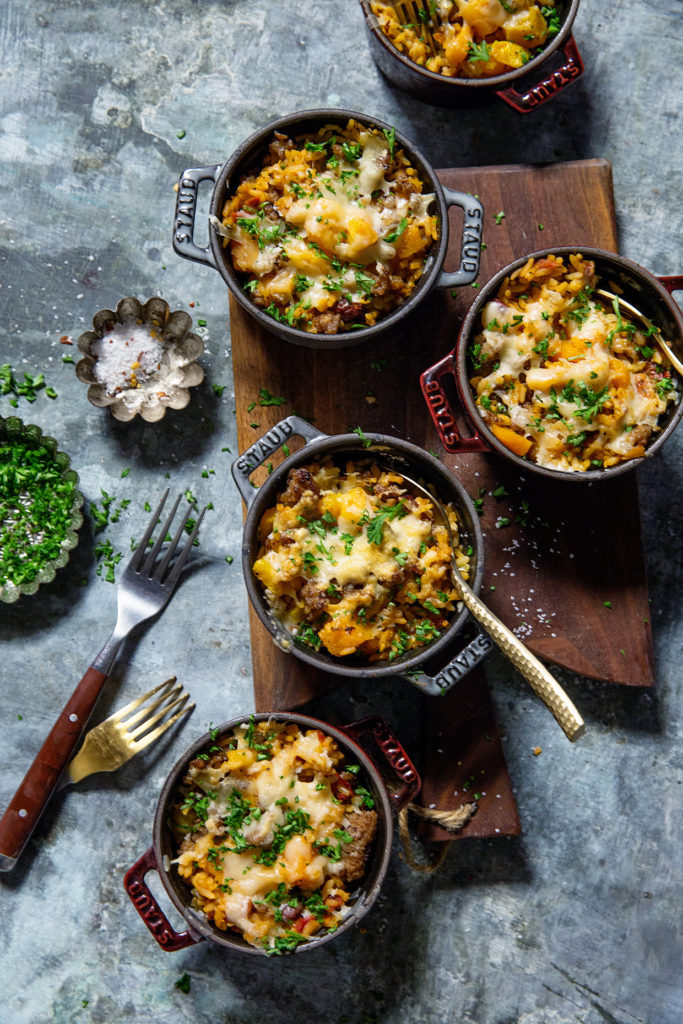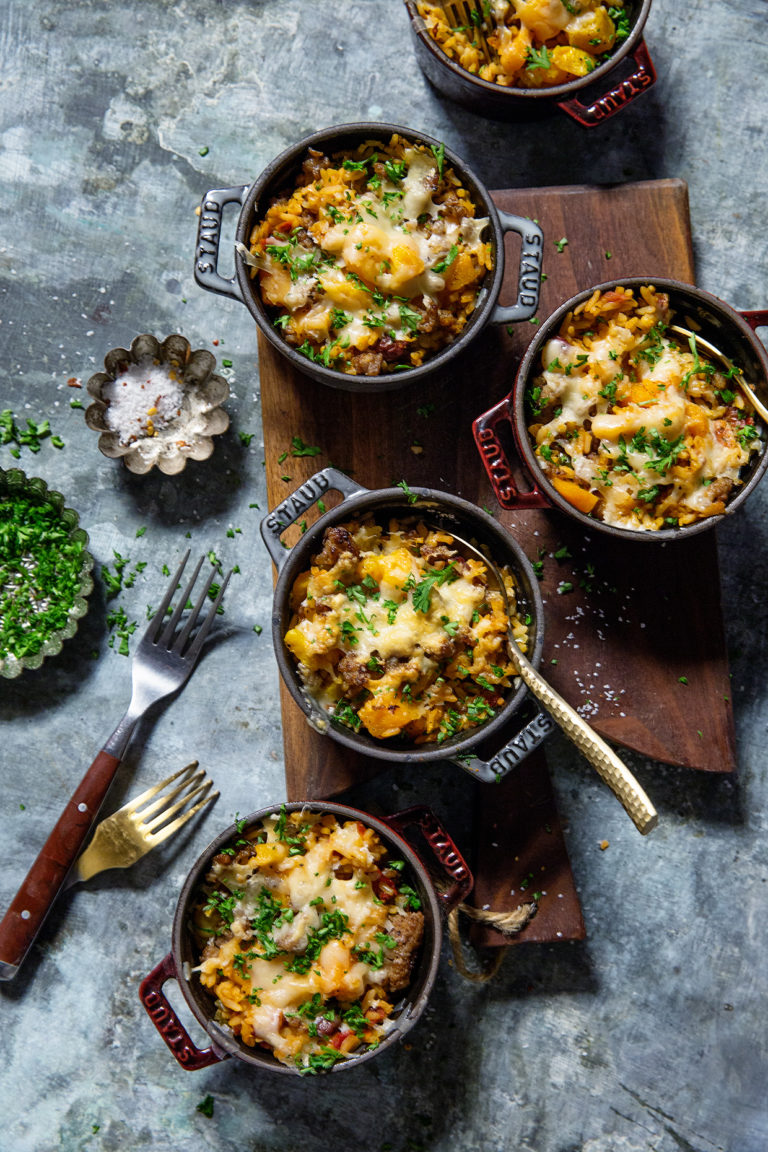 I made this for dinner, and then served the leftovers as breakfast with a fried egg on it. I love how versatile this recipe is. And I love how Knorr Selects makes meal time that much faster. Knorr Selects are crafted with culinary expertise from chefs to yield flavorful varieties like: Rustic Mexican Rice & Beans, Roasted Garlic Alfredo, Four Cheese Risotto, White Cheddar Broccoli and more. I like Knorr Selects because they are great as is, or perfect as a base for a delicious family meal like the one you see in the picture below. Even better, they are made with no artificial flavors, no artificial preservatives and are gluten-free, using responsibly sourced rice from Arkansas. All important things to me and my family, because I can feel good about any meal I serve with Knorr Selects.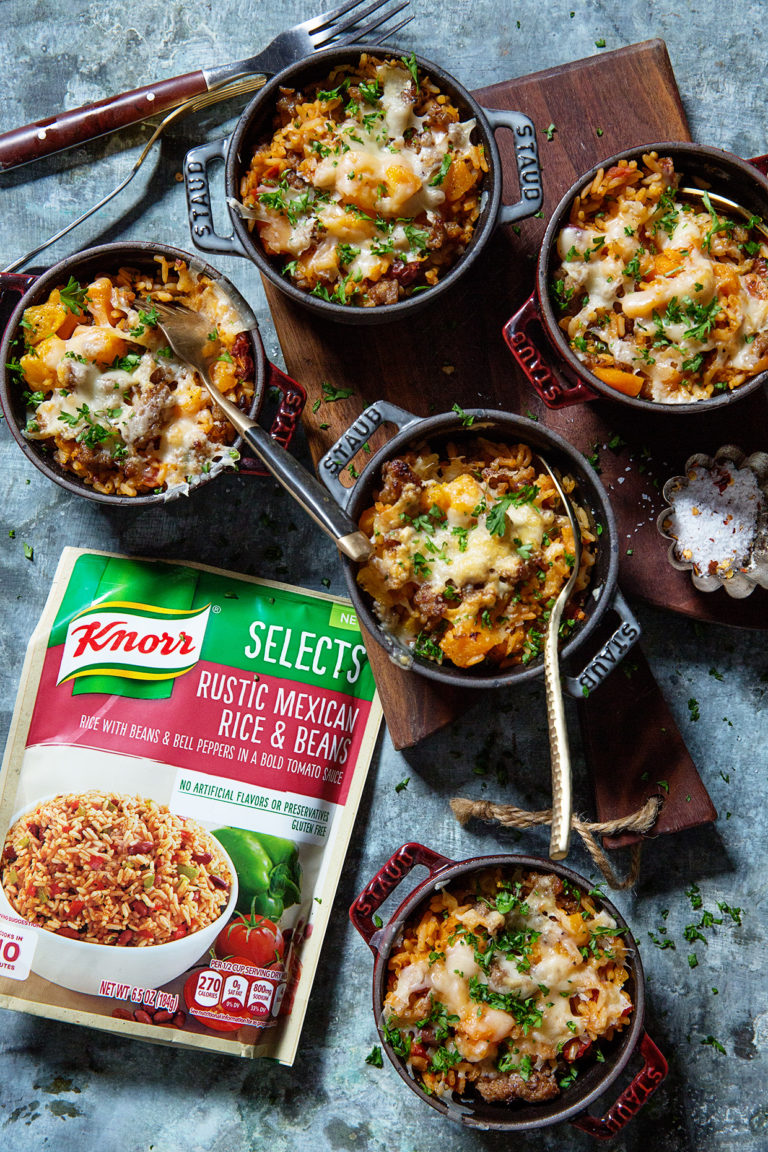 There are a lot of flavors to choose from, but for this recipe, I grabbed the Mexican Rice & Beans as the foundation for the single-serve casserole. As I mentioned if you want to skip the single-serve route, you can: (1)  just place everything in a casserole pan and you are good to go. (2) make it as a one-skillet meal, grab a large skillet and cook the sausage, then add the butternut squash and cook until tender. From there you can add in Knorr Selects and cook it according to the instructions and you have yourself a one skillet meal.
Ah, so many options—go ahead, pick one and do it!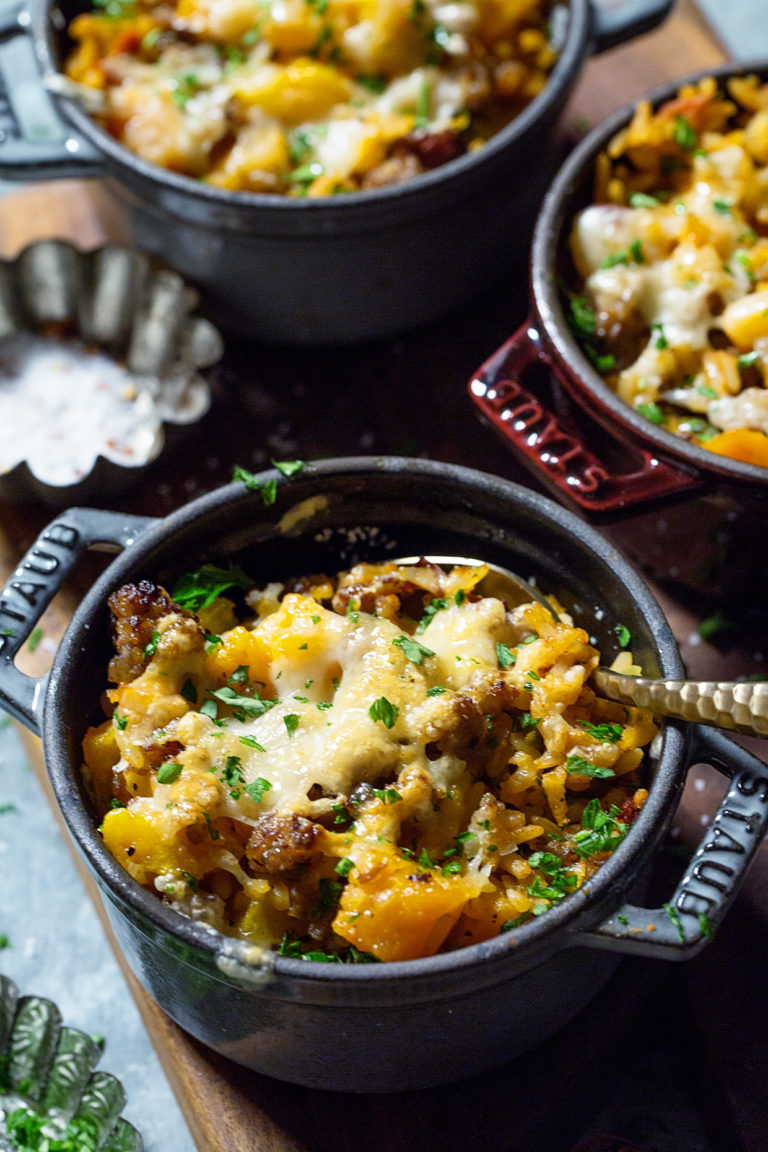 Yield: Serves 6-8
Butternut Squash and Sausage Rice Casserole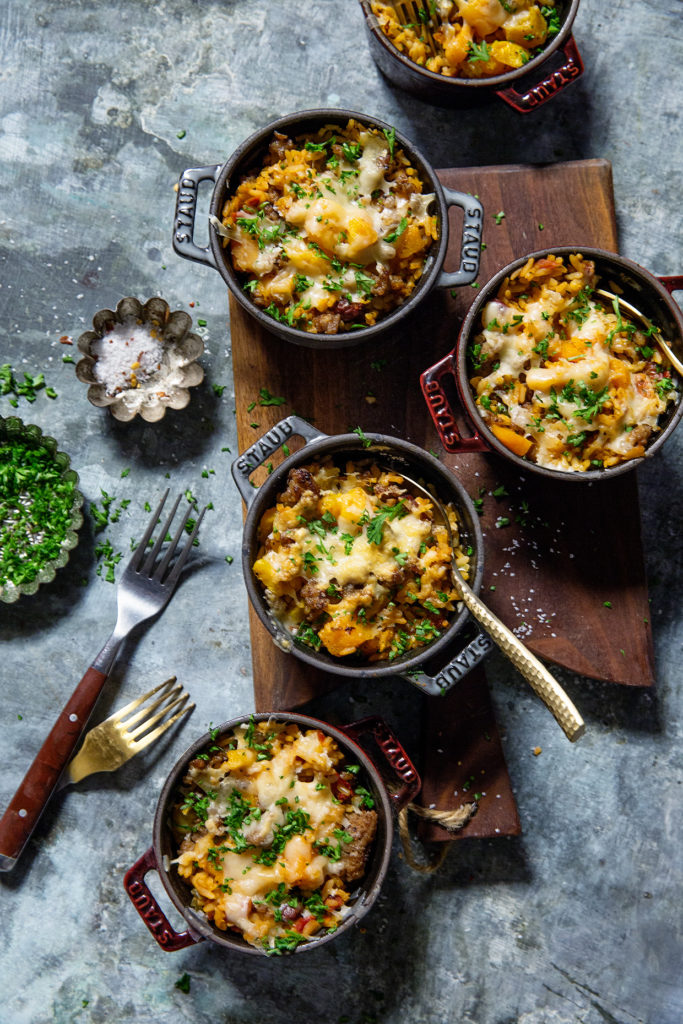 Ingredients
16 oz. roasted butternut squash
16 oz. cooked sausage, crumbled
8 oz. mozzarella cheese
2 packets of Knorr Selects Rustic Mexican Beans & Rice (cooked according to package directions)
Prepare Knorr Selects Rustic Mexican and Rice as instructed.
Instructions
In a large skillet over medium high heat, bring oil to a sizzle. Add the butternut squash and cook until tender, about 8-10 minutes. Transfer the butternut squash to a large bowl. Add the sausage and cook thoroughly, about 5-6 minutes. Add sausage and the cooked Knorr Selects rice to the bowl with the butternut squash. Divide the mixture between your preferred cooking vessels and evenly divide the mozzarella cheese and sprinkle over the top of each serving. Transfer to the oven and broil for 2 minutes or until cheese is melted.