You read that right, Butterfinger Truffles. This is going to be a new holiday tradition in my home. I never quite realized how easy truffles were to make until I made some last year with Naomi.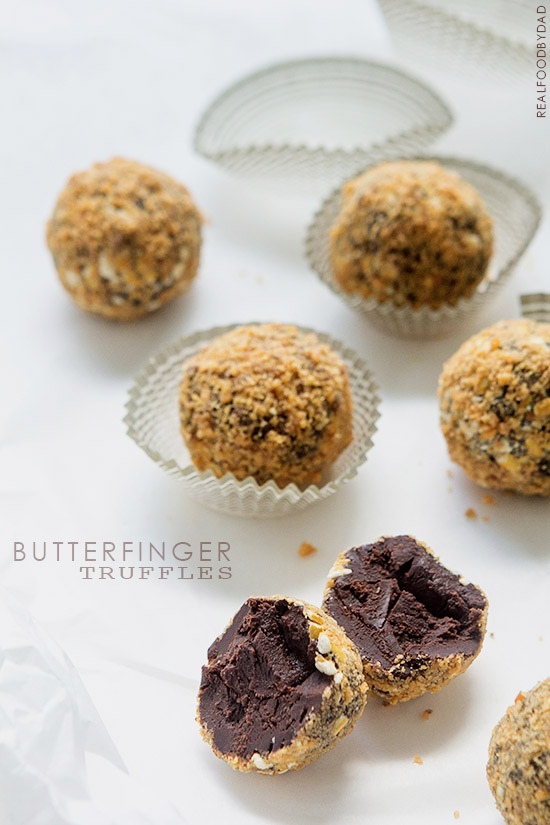 This year, she's skipped out on making truffles with me, so left to my own devices. I made these—peanut butter flavored truffles rolled in crushed Butterfinger.
I'm not one to brag, but these were so good, I've set aside a few for myself and the others will be gifted to friends. Apparently it's a candy making year, because while I made these, Naomi made some marshmallows for gifting. Coincidence or mind meld—I tend to think it's the latter–that's what happens when you have two bloggers under one roof.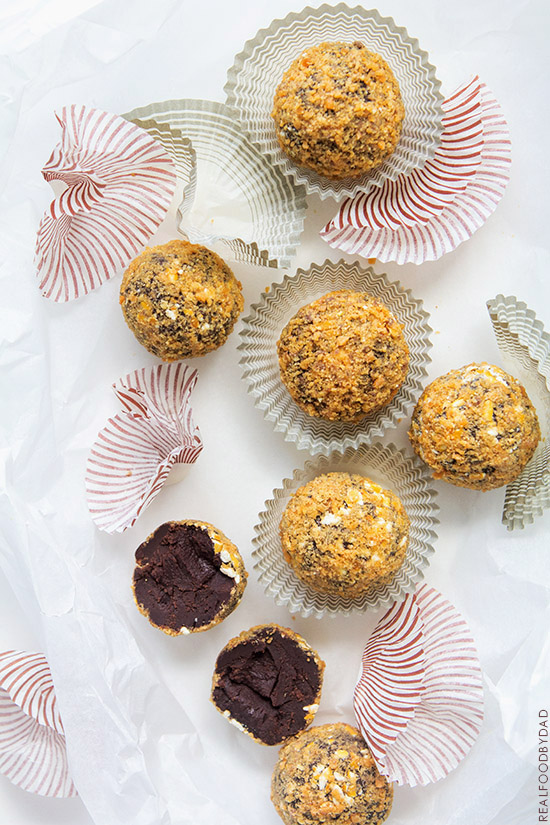 The upside of having two bloggers in one home is we definitely won't be short on having homemade food gifts on hand. The downside is we have two bloggers in the home, so we usually have a surplus of food. Although, I'm learning to get more creative and up-cycle surplus food into new dishes.
I would call them leftovers, but then I'd have to admit to Naomi and my mom that after many years of leftover aversion, I'm now embracing them. So don't be surprised if you see a few of these Butterfinger Truffles in another dessert.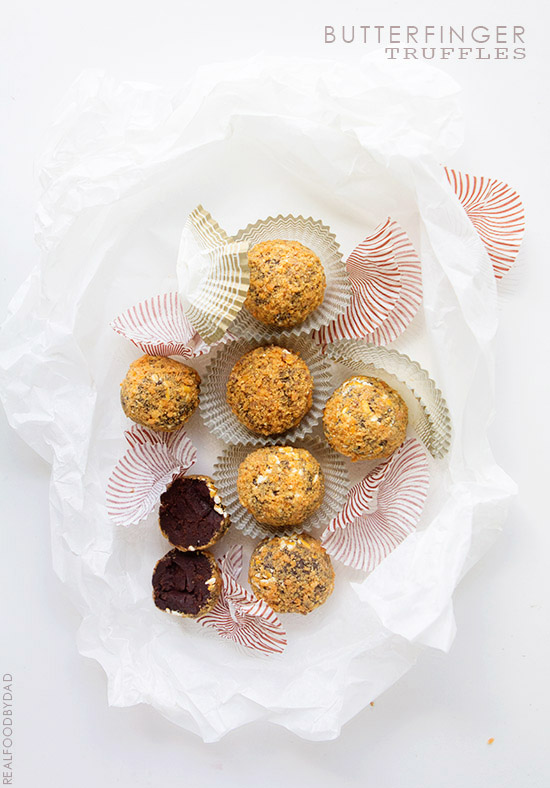 Butterfinger Truffles
Makes one dozen 1 ½inch truffles
Ingredients
1/2 cup heavy cream
3 tablespoons peanut butter
11 oz. dark chocolate (at least 65% cacao), chopped
1/2 cup finely crumbed Butterfinger (about 4-5 fun size butterfingers)
Instructions
Place heavy cream and peanut butter medium high heat; cook and stir until combined. Pour mixture over chopped chocolate; leave untouched for two minutes. Gently stir until chocolate is smooth and fully melted. Cool to room temperature. Cover and refrigerate until set, about 3-2 hours.
Remove from refrigerator and using a small cookie scoop scrape and drag to create a one-and-half inch ball. Transfer to a parchment lined bakesheet. Finish forming truffles. Return truffles to the refrigerator for 15-30 minutes to chill.
Chop Butterfinger until finely crumbed. Roll truffles in crumbs.
Notes:
• To skip rolling the truffles, line a 9x5 loaf pan with parchment paper. Once set, remove from pan and peel away paper. Cut truffles into 1 inch squares and then dip in crushed pretzels.
• Truffles can be made up a week in advance and kept refrigerator in a tightly covered container. Remove from refrigerator twenty minutes prior to serving.