Every time I bring up weather as a topic of conversation, I immediately feel old. But when you are sticking to your leather chair, it's hard to concentrate on anything else. Temps hit 100 and I simply cannot stand going to bed when it is 80 degrees out. No fun. Baseball practices become a chore for me and the players and my boys get a little edgier the longer the high temps go on. So I figured I would cool things down myself with these Butterfinger Pudding Pops.
The last time I made pudding pops I went with Oreo Pudding Pops, and they were a huge hit. This time, I mixed it up and went with another family favorite, Butterfingers. Well, a favorite for 3 out of the 4 of us. Naomi is allergic to peanut butter. Sorry babe, the boys won this time.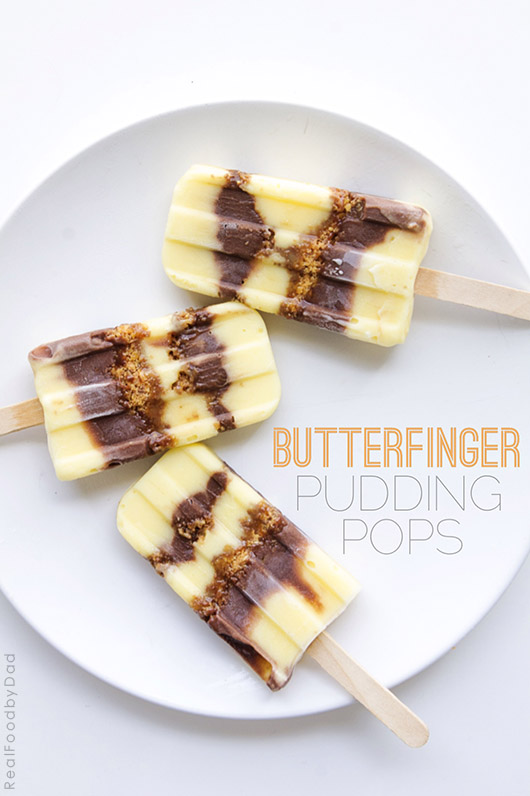 Once I pulled them from the freezer, we all agreed that the best part of these Butterfinger Pudding Pops is in the subtle crunch you get every couple of bites. Not every bite is the same, sometimes just vanilla, sometimes just chocolate, and sometimes, you get to that Butterfinger crunch and you literally can't wait until the next bite. For a brief moment, we all forgot that it was miserable outside.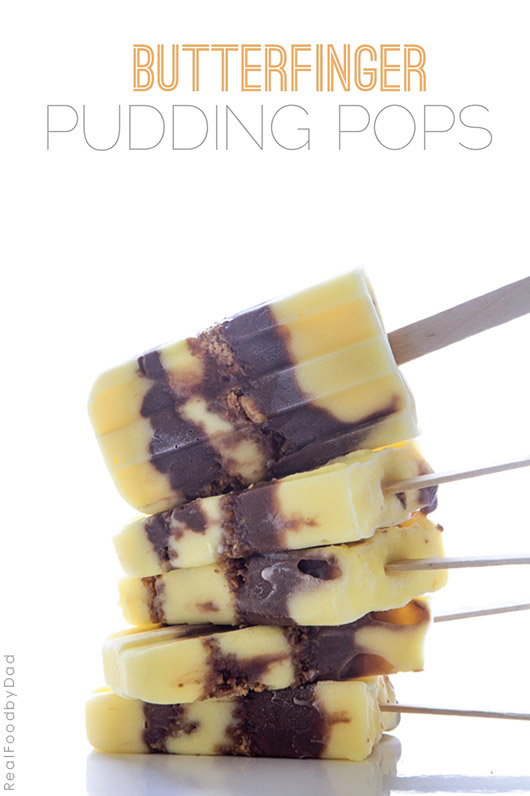 Give these a try the next time it warms up, they are fun and simple to make, and they will instantly make the kids happy. And I know myself well as a dad; if I sense a little success in an idea of mine or something I created make my sons smile, then why stop there? So boys, we are on a pudding pop run in our home. Don't be surprised if you see another one very soon.
Yield: 14
Butterfinger Pudding Pops
Prep Time 10 minutes

Total Time 10 minutes
Ingredients
1 5.1 oz Instant vanilla pudding, (not cook and serve)
1 3.4 oz Instant chocolate pudding, (not cook and serve)
5 cups milk, divided use
4 2.1 oz Butterfingers bars, crushed
Instructions
Mix the chocolate and vanilla pudding according to the package.
Transfer each pudding mixture into a pastry bag and layer with vanilla pudding, chocolate pudding and crushed Butterfinger, Repeat until each well is filled. Insert popsicle stick and let freeze until solid, 3-4 hours.
Notes: (1) Alternately, the Butterfinger can be mixed into the vanilla pudding, rather than layered. (2) This recipe can easily be halved. (2) Freeze time will vary according to settings and how full your freezer is.