Who else is excited about football season starting this Thursday? My boys can hardly wait. They love the game, but they've come to love the food like I do. 
For the last three years Naomi and I have had a friendly competition of who can do game day eats better. It's all fine and good until a winner is declared. Then the tears and the "I should have" "I could have" starts getting thrown out. Kidding.  Kinda.
Well at least I'm kidding about the tears. That is unless your name starts with an N and ends with I.
Ahemmmm.  Okay, so they are virtual tears, but man she hates to lose – as do I. 
But what we love more is the playful kitchen time and ribbing that goes on when we try to win over our kids with our creations since they are the judges.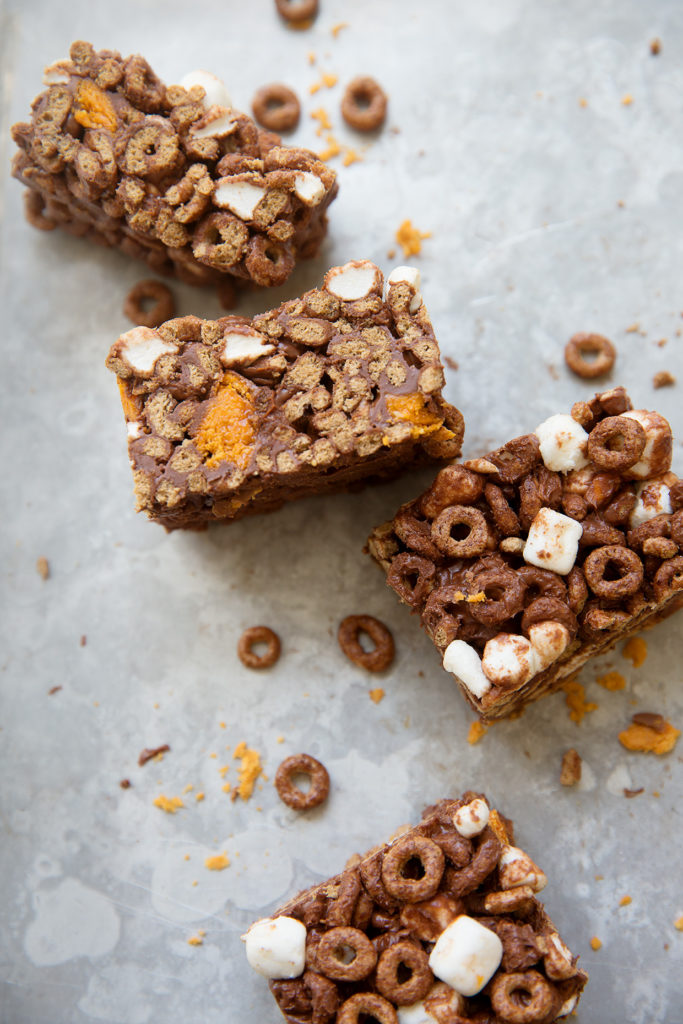 To check out what Naomi came up with, click here. Sadly for me, my cereal bars lost this week.  The boys were all about those chili bowls on a stick. 
But next week, I got it. For sure. Stay tuned. I'm thinking we need to take the voting out of the house and out to you guys for judging! What do you think?
Yield: Makes nine 2.5 inches squares
Butterfinger and Marshmallow Cereal Bars
Ingredients
4 cups chocolate Cherios
1 cup marshmallows
1.5 oz. Butter Finger, chopped
1 cup chocolate
1/4 cup peanut butter
1 tablespoon honey
Instructions
Preparation: Line an 8x8 inch pan with parchment paper; set aside. In a large mixing bowl, stir together Cherios, marshmallows and Butter Finger pieces; set aside.
In a small saucepan over low heat, stir together chocolate, peanut butter and honey. Continue to stir continuously until ingredients are well combined. Remove from heat and set aside to cool for 5 minutes.
Pour chocolate mixture over dry mixture and stir to combine. Scrape and press into prepared pan. Transfer to the refrigerator to chill for at least 4 hours or until set.