Bulgogi Pork Stir Fry ~ This sticky sweet stir fry is a Korean inspired recipe with added red peppers and sugar snap peas for crunch and sweetness.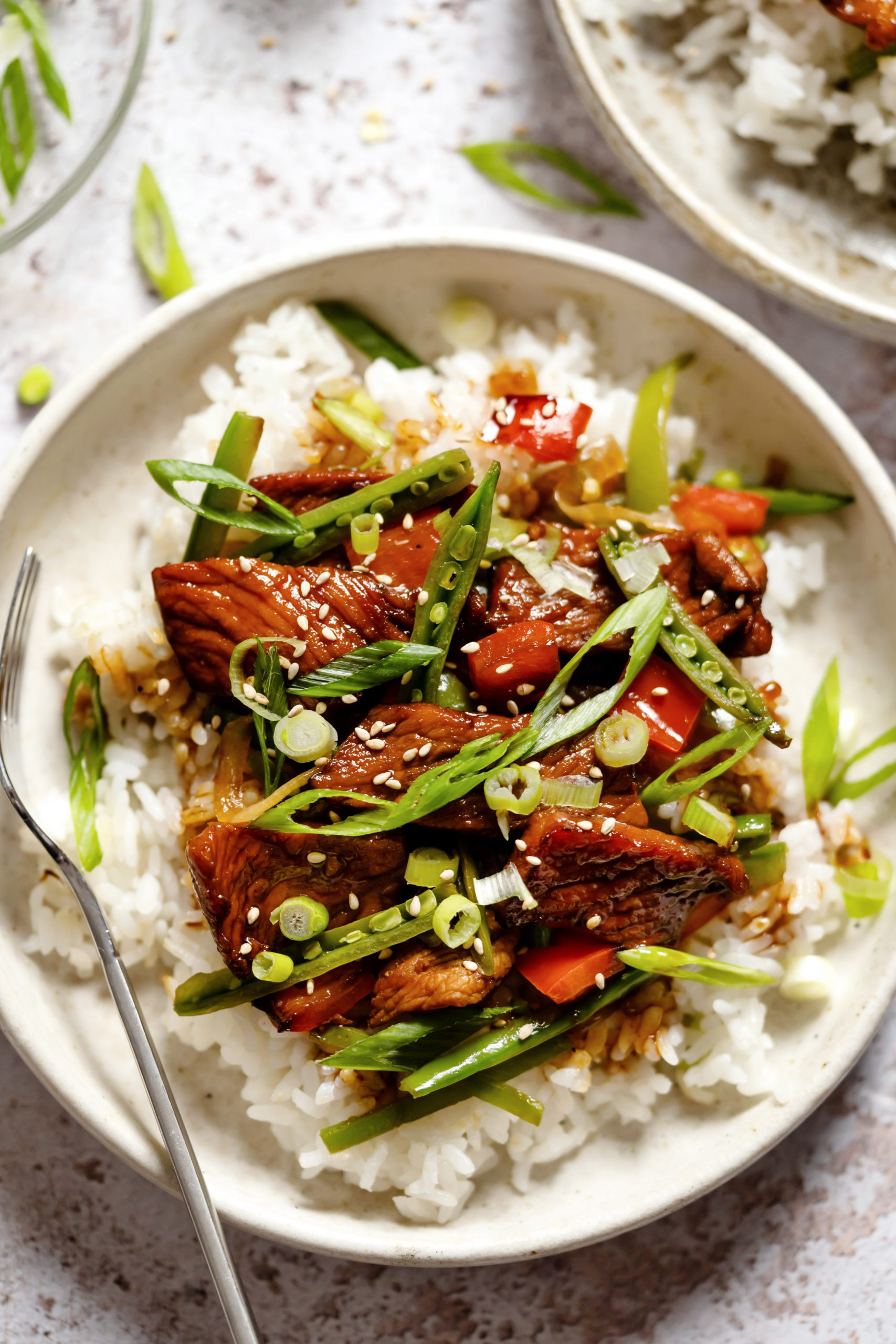 **This post is sponsored by the National Pork Board but all thoughts are my own.
I also gave this recipe a methodology riff by skipping the stovetop for the grill. One because I'm stretching out summer as long as I can, so I'm grilling where I can, but more so because grilling means higher heat and less kitchen mess.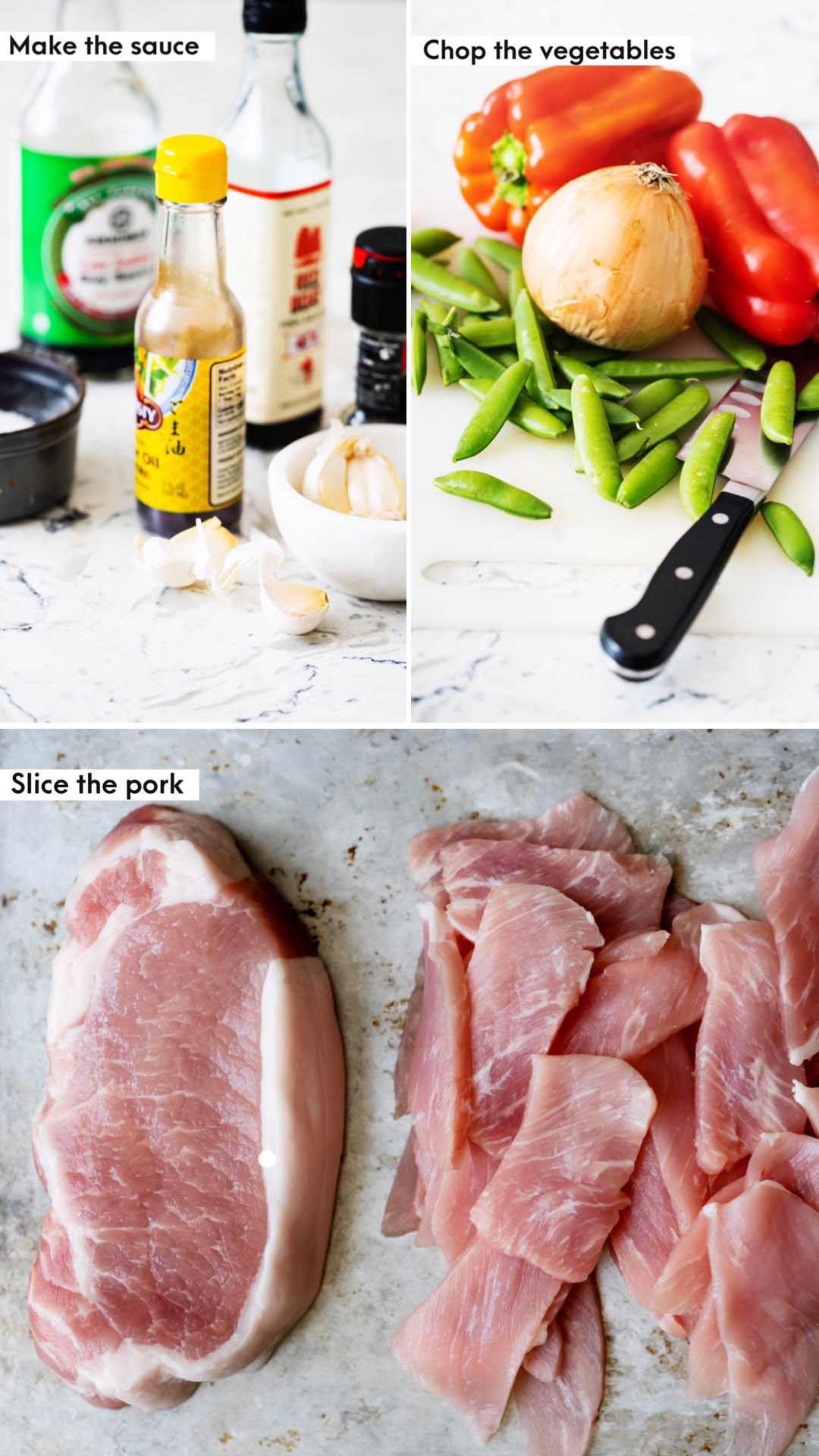 Grilling is the way to go with this recipe. The concentrated heat quickens the recipe while giving it just the right degree of caramelized complexity that gives this dish its distinctive taste.
As I mentioned in my previous post, last year Naomi and I were planning a trip to South East Asia for this summer, but the plans were put on hold since travel hasn't completely gone back to normal.
With that we've been doing a culinary tour via our kitchen and grilling with pork as our primary protein. Mainly because pork is easy to work with and it contains less than 5 grams of fat, 2 grams or less of saturated fat, and 480 milligrams or less of sodium per label serving. I'm all about packing our diet with better-for-you protein.
For this recipe you can either skip or swap out the snow peas and red bell peppers for any other crunchy vegetable. As for the pork cut, pork shoulder or pork belly will work well too.
Once you're done bookmarking this recipe, don't forget to head over to pork.org for more recipes!
Yield: Serves 4
Bulgogi Pork Stir Fry
Ingredients
1/2 cup soy sauce
1/2 large white onion grated
3 tablespoons sugar
2 tablespoons mirin
4 garlic cloves, grated
1 tablespoon sesame seed oil
2 lb. pork loin, sliced to 1/4-inch thickness
2 cups (8.5 oz/240g) sliced sweet onion, about one medium
1 1/2 cups 7.25 oz/205g) diced red bell peppers, about two medium
1 1/2 cups (5.5 oz/155g) sliced sugar snap peas
4 scallions, sliced
Instructions
To make the sauce: In a medium bowl, whisk together all
ingredients and set aside.

In a large skillet over medium high heat, heat 1 tablespoon
of oil. Add the pork, cook and stir until meat is seared and cooked until a meat thermometer reads 145⁰F . To get the most accurate temperature reading, use a digital meat thermometer. Pour sauce on top, cook and stir until sauce is reduced by a one-third.

Stir in onion, bell pepper, sugar snap peas and cook until
translucent, about 5 to 7 minutes. Pork should be caramelized at this point.

Remove from heat and set aside to cool for 10 minutes. To serve, layer bowl with rice, pork, vegetables, sesame seeds and scallions.