Easy Bulgogi Ground Beef Lettuce Wraps is the perfect meal to make ahead for those busy nights. It comes together in less than 20 minutes and stores well and easily with Rubbermaid's EasyFindLids™.
**This is a sponsored post in collaboration with Rubbermaid. All opinions are my own.
It's also one of Naomi's favorite meals, so I'm making this ahead for Mother's Day. That way we can have more time as a family outside than in the kitchen. It's also a must make meal when you have two boys doing multiple sports. It's a lot of running around for the two of us. To keep eating out to a minimum we rely on fast and easy meal like this.
To make sure that my efforts aren't wasted, I use Rubbermaid's EasyFindLids™ as my food storage solution!
It keeps what I make fresh and secured. Although my favorite part, is how the lids snap to the base, so no fussing around searching for the matching lid after a cooking session.
When it's time to reheat the food, the sturdy base is microwave-safe and you can simply pop open the vented lid for splatter-free reheating. In between being used, I love that the containers neatly nest for easy organization.
Best of all these are some of Naomi's favorite containers. She loves how it helps to keep the clean and well organized. That being the case, I just ordered a few more since she's the decanter of the house and always says we never have enough of them.
If you are the same, shop the the full collection here.
Now that you know how easy this is to make and how to store it, let's go through some tips and questions you might have before getting started.
Can I use something another protein other than ground beef for this recipe?
You can. Any protein will work, even a plant-based one.
Is the low-sodium soy sauce noticeable? I only have regular soy sauce in my pantry.
I strongly suggest low-sodium soy sauce for this recipe, or the saltiness of soy sauce will dominate the flavor, especially if you use fish sauce.
What gives about the fish sauce in this Bulgogi recipe?
First this is how I make bulgogi. It is by no means authentic. It's patchwork of the classic and the fish sauce is something I picked up from Naomi. She taught me the magic of fish sauce and how it ratchets up the umami flavor in so many dishes. You'll see in the recipe that I note it's optional. For those new to fish sauce – it's not fishy unless you use it excessively. A little goes a long way.
I've never seen lemon zest in bulgogi?
Nope. You probably haven't. But I'm betting once you try it with some lemon zest you'll understand that the brightness it adds to the dish is not to be missed going forward.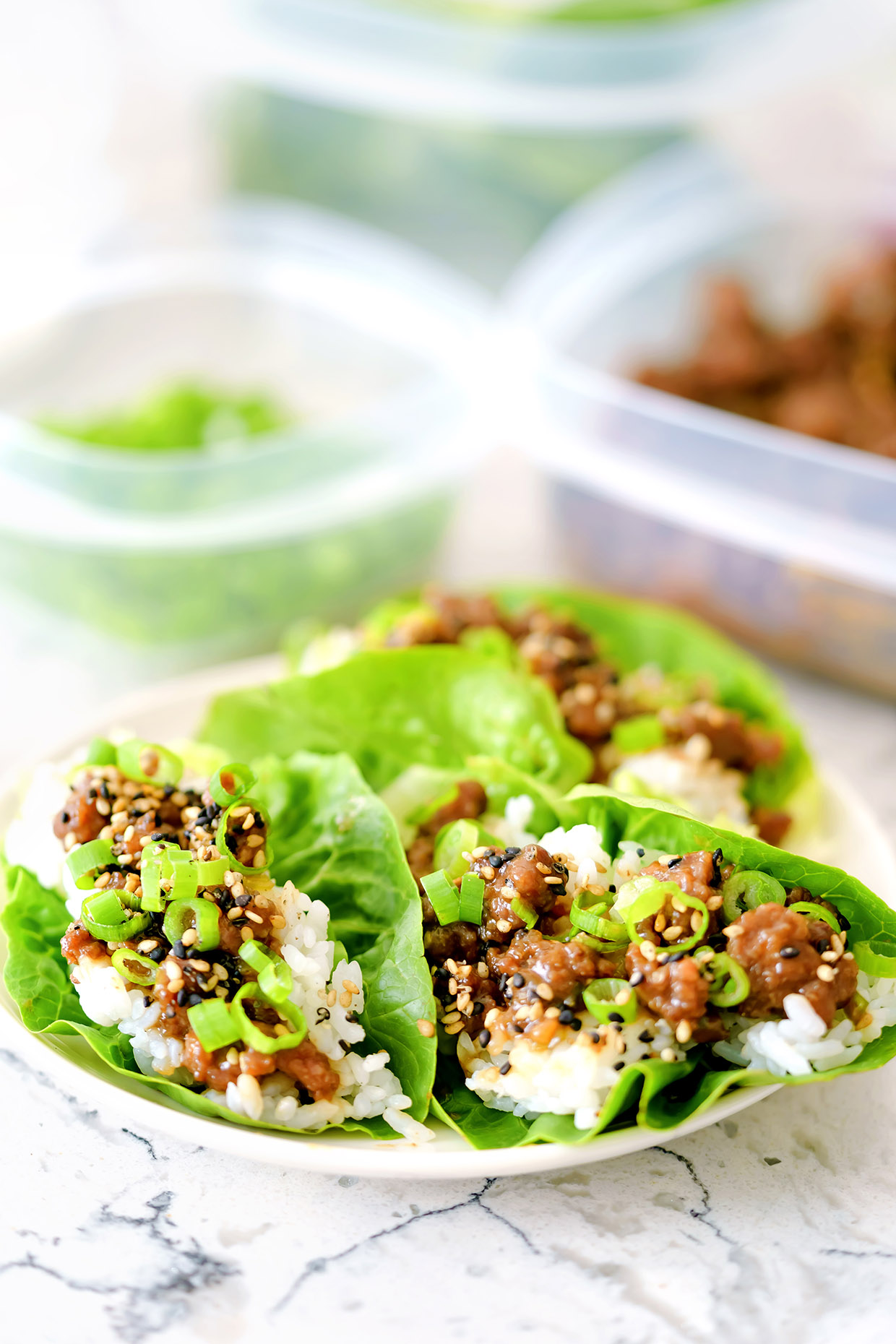 Yield: Serves 4
Bulgogi Ground Beef Lettuce Wraps
Ingredients
1 tablespoon oil
1 lb. ground beef
5 scallions, white and pale-green parts (reserve dark green parts for topping)
2 garlic cloves
2 teaspoons grated ginger
1/2 cup low-sodium sauce
1/3 mirin
3 tablespoon sugar
2 teaspoon toasted sesame oil
2 teaspoon fish sauce*
zest of one lemon
cornstarch slurry (whisk together 1 tablespoon cornstarch + 1 tablespoon)
baby romaine lettuce (or butter leaf lettuce will work too)
black and white sesame seeds
scallions (the reserved dark green parts)
Instructions
Over medium high heat, add oil to a large skillet and heat until oil shimmers. Add the ground beef and cook until meat is light pink, about 3-4 minutes.

Turn heat down to medium and add in the scallions, garlic and ginger; stir and cook for another 3 minutes. Add the remaining ingredients; cook and stir until sauce thickens about 2 minutes

To assemble: Place a 1-2 spoonfuls of rice onto lettuce. Layer with meat, scallions and black and white sesame seeds. Serve immediately.

*The fish sauce is not necessary, but it packs a good punch when it comes to ratcheting up the umami flavor.