I'm back on fatty food with no apologies. Because if there is one thing I excel at in the kitchen, it's finding balance. After last week's light and healthy fish tacos, I'm going all in with fried buffalo wings, lots of cheese and some kicked-in heat with jalapenos and Sriracha.
I'm all about mash-ups, so this bar food meets comfort food has been a huge hit in our home. Except if your name is Naomi and you have an aversion to biting into food.
How wierd is that? Nope, she won't even do corn on the cob. So naturally, Cole and I had to poke some fun at her as we sank our teeth into each wing, while she used a fork and knife and took twice as long to reach for seconds.
Lucky for her, we are generous boys. We left her the anemic looking ones. Not because we wanted to make a point, but because we figured a fork and knife put her at an advantage of having more pliability than our side-to-side teeth-tearing.
Right? It makes total sense to me.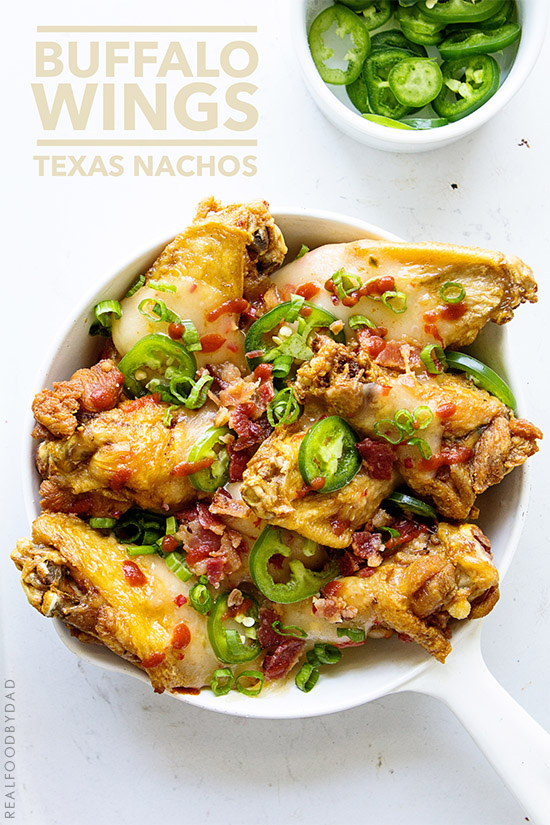 So however you eat your wings, don't forget to do it Texas Nachos style next time. It's like nachos with added heft and wings without the tears and a lot of cheesey goodness.
Yield: 6-8
Buffalo Wings Texas Nachos
Ingredients
1 lb of your preferred buffalo wings
2 cups peppered cheddar cheese
6 strips cooked bacon, crumbled
1/3 cup green onions
Instructions
In an oven-proof pan, assemble ingredients in two layers inside. Place pan under broiler set to high. Cook until cheese is melted through, about 4-5 minutes. Remove from oven and sprinkle with remaining ingredients. Serve immediately.