Buffalo Chicken Fries ~ It's French fry nachos loaded with grilled buffalo chicken and topped with chives, ranch dressing, bleu cheese crumbles and hot sauce.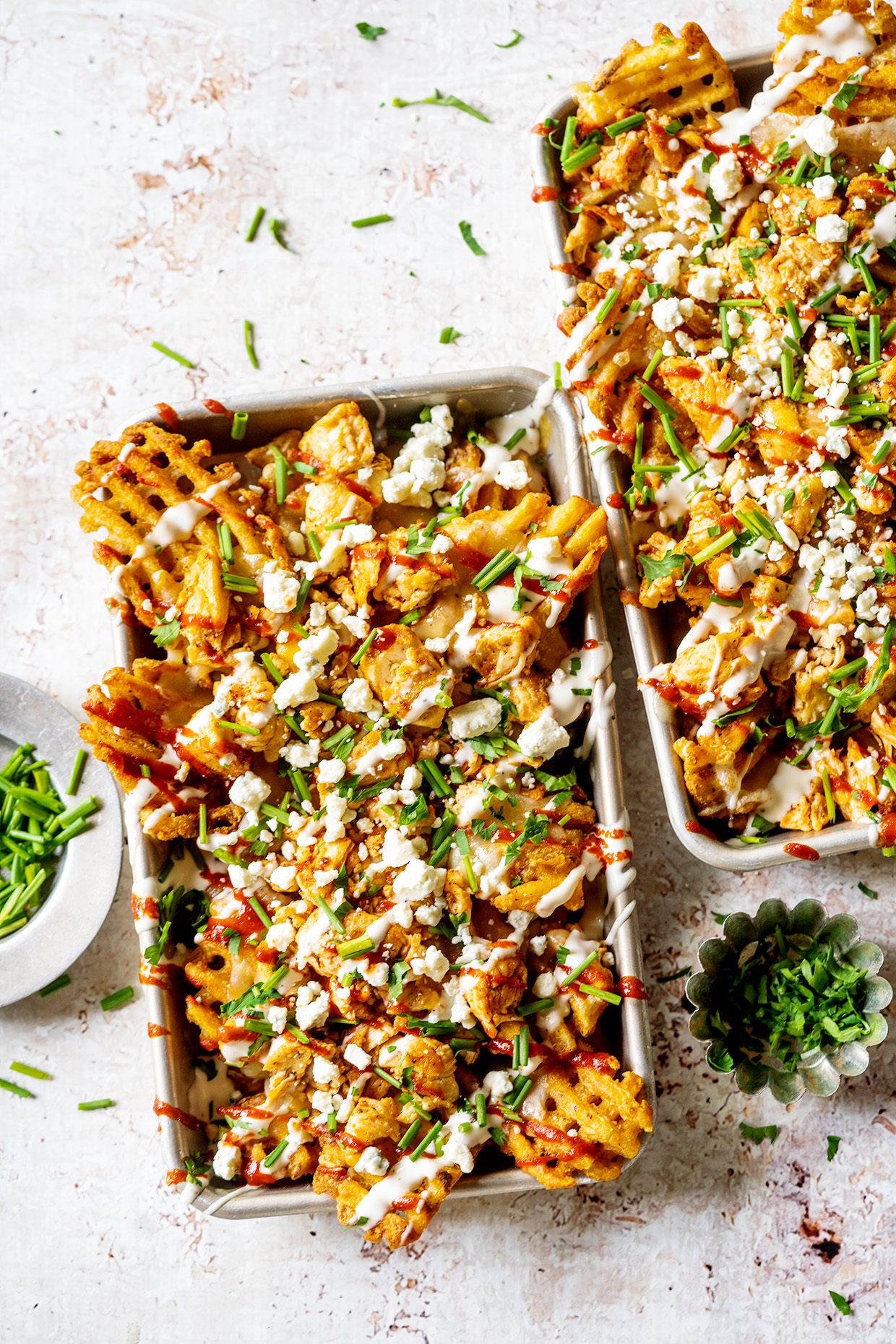 My kids are calling this Buffalo Chicken Frachos. I have no issue with that. Apparently my kids do. They want to know "why" and what makes one recipe utilizing french fries topped with cheese is considered frachos, like this Taco Frachos recipe, a pizza-spunned fry ensemble is deemed Pizza Fries to why cheeseburger + fries, blanketed in cheese, bacon, pickles and chopped tomato is called Cheeseburger Nachos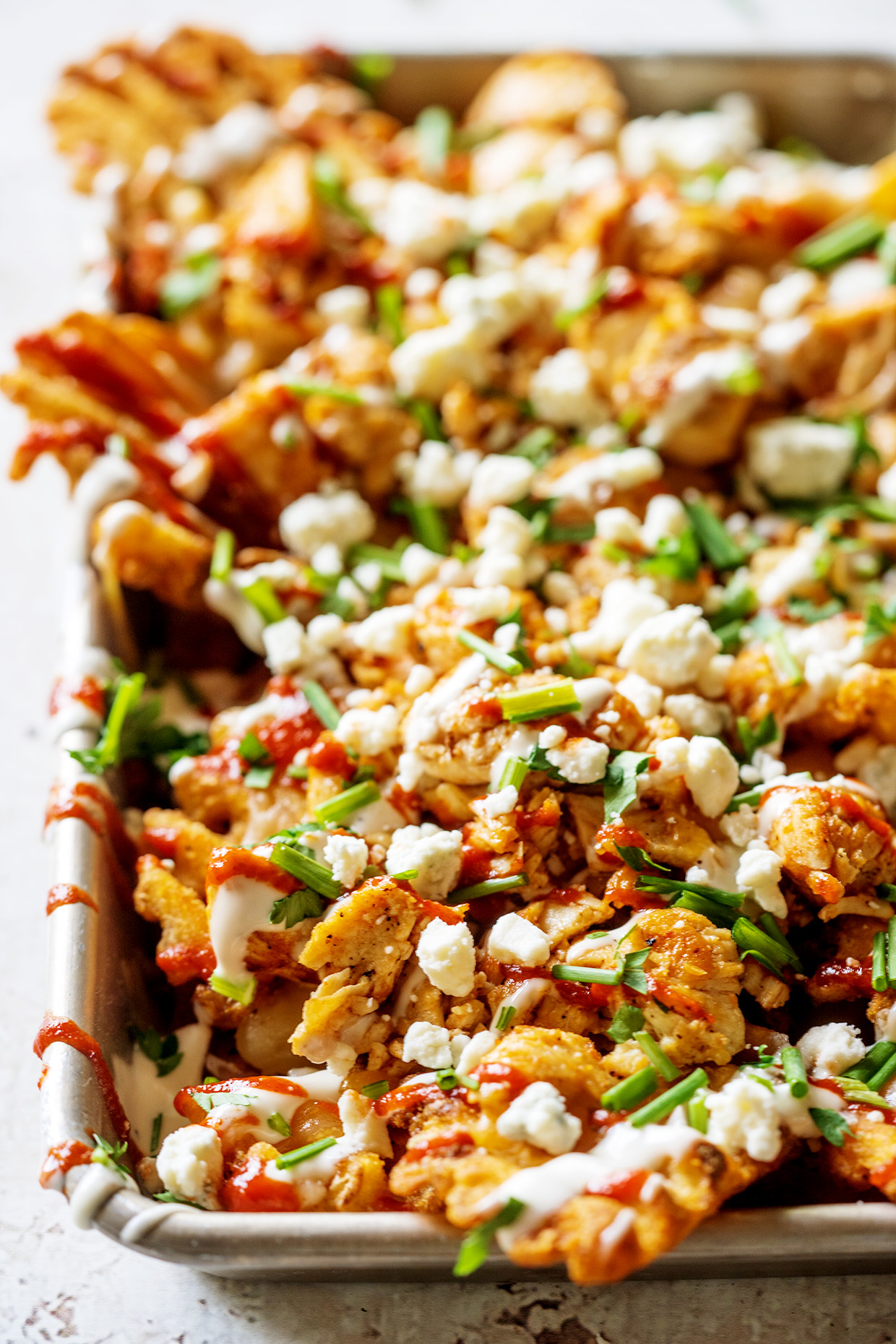 Clearly they are all related – yes? Yes.
I love that their minds will nitpick this, but there's no thought for deep dives when it comes to writing papers or journals for class. I guess in their defense, I could say food reigns supreme in our home, so weight-y things frachos vs nachos vs fries matter. Not things like "was it Michangelo or Davinci that painted the Sistine Chapel?" (current 7th grade history lesson) or making sure there are 5 details for kinder grade journal writing. Nope. School related "details" like that are for the birds.
Following that logic, I didn't answer their question about the taxonomy of this whole french fry situation. I just kept feeding them to buy a few more minutes of adult sanity—a hot commodity, when you are pivoting between doing distance learning with the kids to being entertainment coordinator.
For us adults, let's settle on Buffalo Chicken Fries.
Tips for making this recipe
What's the best french fry to use for nacho/frachos?
It's really more personal preference. I tend to like waffle fries for nachos because they can hold a lot of topping with every bite. But any variety of fries will work, even sweet potato fries!
What's the best cheese to use for this Buffalo Chicken Fries recipe?
I like pepper jack for an added layer of flavor, but I also mix that with some mild cheddar. Although made this other cheeses like fontina and mozzarella–these work well too.
What's the best way to get melt-y cheese for nachos?
Soft cheeses like American, pepper jack, or cheddar melt best. Try to avoid pre-shredded cheese because they are coated to prevent sticking that also prevents them achieving that gooey melt.
Yield: Serves 4
Buffalo Chicken Fries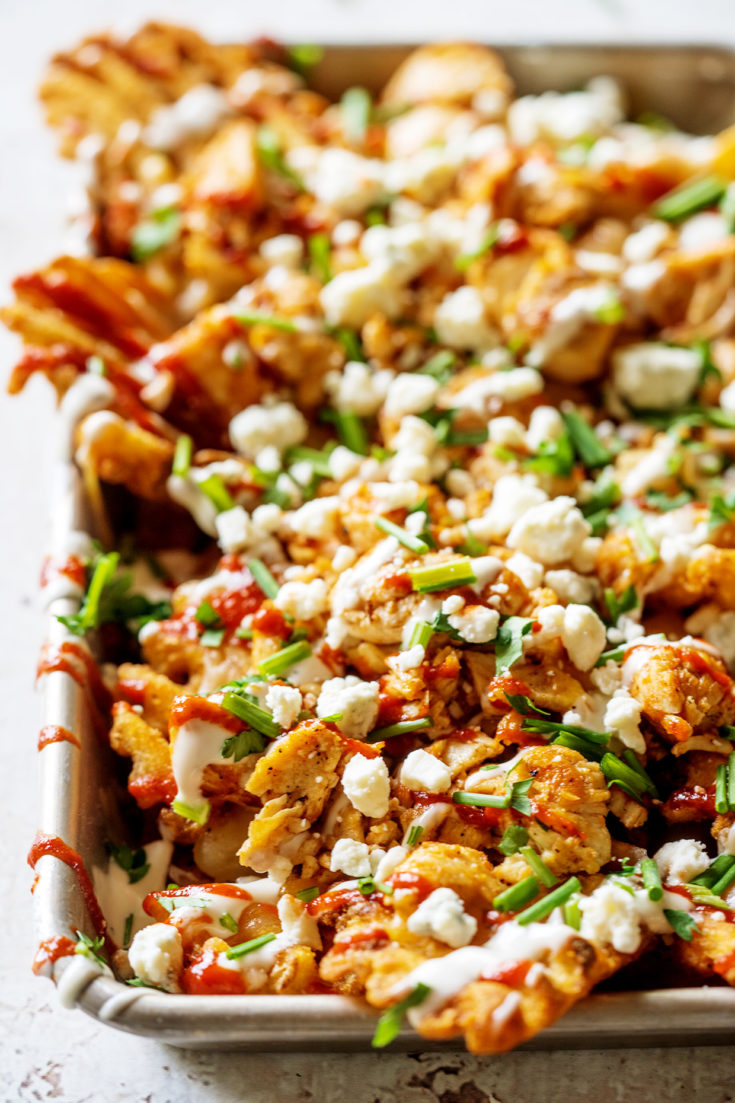 A mash-up of fun snacks: nachos, fries and buffalo chicken.

Prep Time 10 minutes

Cook Time 20 minutes

Total Time 30 minutes
Ingredients
22 oz. waffle fries (homemade or frozen)
1 lb. grilled chicken, chopped
1 cup buffalo hot sauce
8 oz. pepper jack cheese
8 oz. mild cheddar cheese
1/4 cup ranch dressing
1/4 cup bleu cheese crumbles
hot sauce
chives
parsley
Instructions
Heat the oven to 400 degrees F. If using frozen waffle fries, bake as directed on package.

In a large bowl toss together buffalo hot sauce with chicken to coat; set aside. Line a large baking sheet with foil (for easy clean-up), place waffle fries on top, layer with pepper jack cheese, cheddar cheese and chicken. Transfer baking sheet to the oven and bake for 5 to 7 minutes, or until cheese is melted. Remove pan from the oven and drizzle with ranch dressing and more hot sauce if desired. Sprinkle with bleu cheese crumbles, chives and parsley. Serve immediately.