Breakfast is the most favorite meal in my home. It's the one that I can most easily gather everyone around the table without much delay, especially when these Breakfast Tostadas are on the table.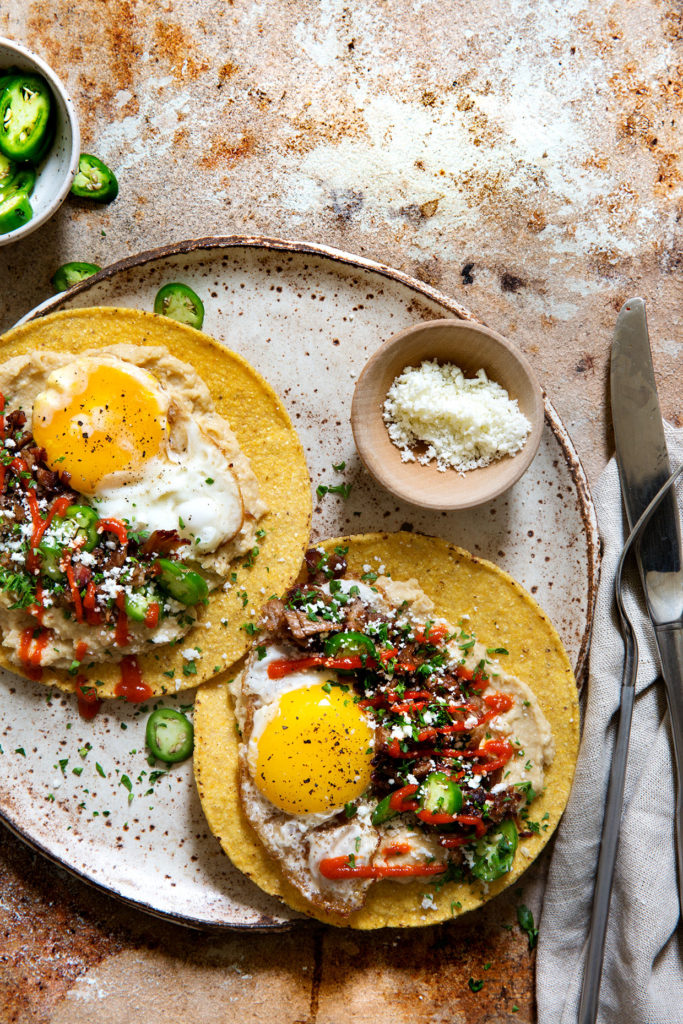 It looks so well put together, doesn't it? But the truth is, it's the result of improvising like a sleep-deprived and over-tired dad. My little guy, Connor, the toddler, is killing me with his new bedtime routine of waking up every night at 3 am.
Do know what goes on at 3 am? Nothing, absolutely nothing, which is why he should be asleep and why I spend an hour patting his back, singing songs, quietly whispering "Go back to bed", in between drifting in and out of sleep at the side of his bed. He is by far my worst sleeper of the three boys. Or maybe it just seems more so because I'm older.
Either way, it's wreaking havoc during my day life with things like, missing deadlines, running red lights (gulp!) and falling asleep in high school parking lots during 2:30 pick up. But the upside has been this morning creation. A creation born out of tiredness, laziness and improvised with leftovers from the previous night's carne asada tacos. I skipped the refried beans for hummus because I didn't have any of the latter on hand and it turned out  WAY better this way, which of course is why I'm sharing this recipe. The remainder of the ingredients are pretty much the expected accompaniments for a tostada. Of course, this is a recipe that you can easily flex, so layer as you like or as your leftovers allow.
Now all that's left to solve is the little guy's sleep. If anyone has suggestions for breaking him of this 3am wake-up call, let me know in the comment section.


Yield: Makes 4 tostadas
Breakfast Tostada
Ingredients
3/4 cup of hummus
1 cup of cooked carne asada, finely chopped
4 over-easy eggs
4 tablespoons finely crumbled cojita cheese,
4 tablespoons finely chopped parsley
Instructions
Evenly divide all ingredients between 4 tostadas and layer in the following order: hummus, over-easy egg, carne asada, cojita cheese and parsley. Top with preferred hot sauce.