I've been on a bender with rich, fatty holiday foods lately, so I'm slowing the pace down for some good comfort dishes like this breakfast quiche.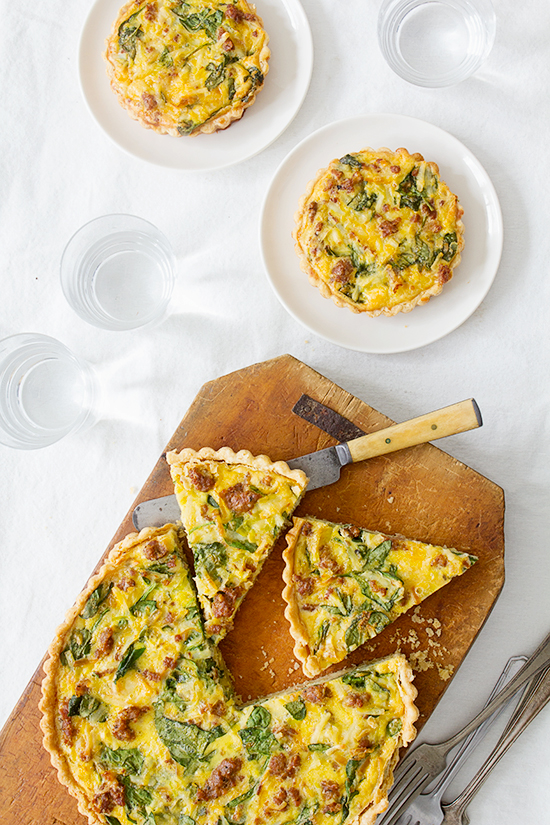 It's easy to make and a sure-fire crowd pleaser. And since we are all still in holiday mode, this would also be a great Christmas morning dish you can bake the night before and re-heat. Yes, reheat, it's actually almost better because the flavors become stronger and richer.Of course, when you reheat this you'll want to do it in the oven at a low temperature to crisp the crust back up. To do so, turn your oven to 200 degrees and place the cold tart in the middle of the oven for 20-25 minutes. And that's it—done!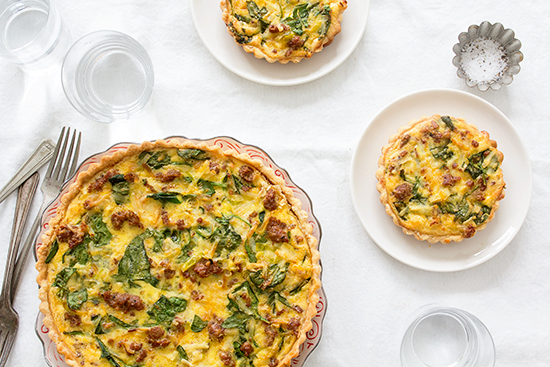 Now with Christmas morning food out of the way, let's talk Christmas gifts for a 13-year-old boy. Anyone have suggestions? I have no idea what to get, every query has been met with the same answer—GoPro, no; 3DS XL, no; new game console, no—I'm at a loss here. If anyone has any suggestions, I'd love to hear them in the comment section.
Breakfast Quiche
Ingredients
Crust: Thomas Keller's Buttery Pastry Shell (http://www.foodandwine.com/recipes/buttery-pastry-shell)
2 cups all-purpose flour, sifted, plus more for dusting
1 teaspoon kosher salt
2 sticks chilled unsalted butter, cut into 1/4-inch dice
1/4 cup ice water
Filling
8 large eggs
1 cup heavy cream
1 1/2 teaspoon Kosher salt
1 teaspoon freshed cracked black pepper
6 tablespoons unsalted butter, divided
10 oz. breakfast sausage
3/4 cups (2 1/2 oz.) leeks
2 sprigs of thyme
1 cup (4oz.) breakfast potatoes
1 1/2 cups (4 oz.) grated Fontina
1/2 cup (1 1/2 oz.) grated Parmesan
2 cups spinach (1.5 oz.)
Instructions
To make pastry shell
Add in 1 cup of flour and salt to a stand mixer bowl fitted with the paddle attachment and mix on low. With the mixer running on low, add the butter pieces, a handful at a time. Once all the butter has been added, increase the speed to medium and mix until the butter is completely incorporated. 2. Reduce the speed to low, beat in the the remaining 1 cup of flour just until blended. Mix in the water just until thoroughly incorporated. Flatten the pastry into an 8-inch disk, wrap in plastic and refrigerate until chilled, at least 1 hour or overnight.
Brush one 9 inch tart pan and three 6 inch pans with oil (or use two 9 inch pans). Place tart pans on a parchment lined bake sheet. Dust the pastry dough on both sides with flour. Working on a lightly floured surface, roll out the pastry dough to a 16-inch round, about 3/16 inch thick. Carefully trim the dough to fit one 9 inch pan with a 1 inch overhang and three 6 inch pan with a 1/2 inch overhang. Trim overhang to edge of pan. Use the trimmings to fill any cracks. Refrigerate the shell for 20 minutes.
Preheat the oven to 375°. Line the each pastry shell with a 14-inch round of parchment paper; fill the shell with dried rice. Bake for about 40 minutes, or until the edge of the dough is lightly browned. Remove the parchment and beans and continue baking the pastry shell for about 15 minutes longer, or until richly browned on the bottom. Transfer the baking sheet to a rack and let the pastry cool.
To make filling:
Melt one tablespoon of butter in a pan over medium heat. Add in breakfast sausage and cook until browned, about 10-12 minutes. Transfer to a large bowl. Melt 1 tablespoon of butter and add in thyme sprigs and leeks, cook until soft and translucent, about 5 minutes. Remove and discard thyme sprig. Transfer leeks to the bowl containing the sausage.
Melt remaining 4 tablespoons of butter and cook potatoes until bottom edges are browned and crisp. Transfer to sausage mixture. Add in spinach and stir to combine. Season with salt and pepper to taste, then pour in egg mixture. Add in both cheeses and fold to combine
Pour mixture into pastry shell and bake until filing is puffed and golden brown, about 25-30 minutes.
*The quiche can be fully cooked one day ahead and reheated by placing it in a 200 degree F oven for about 20-25 minutes or until center is warm.