Breakfast Enchilada Casserole ~ Meet your Easter breakfast casserole. It's filled with scrambled eggs, chorizo, breakfast potatoes and mixed together with enchilada sauce, layered between a copious amount of cheese and flat corn tortillas (because I'm too lazy to do any rolling).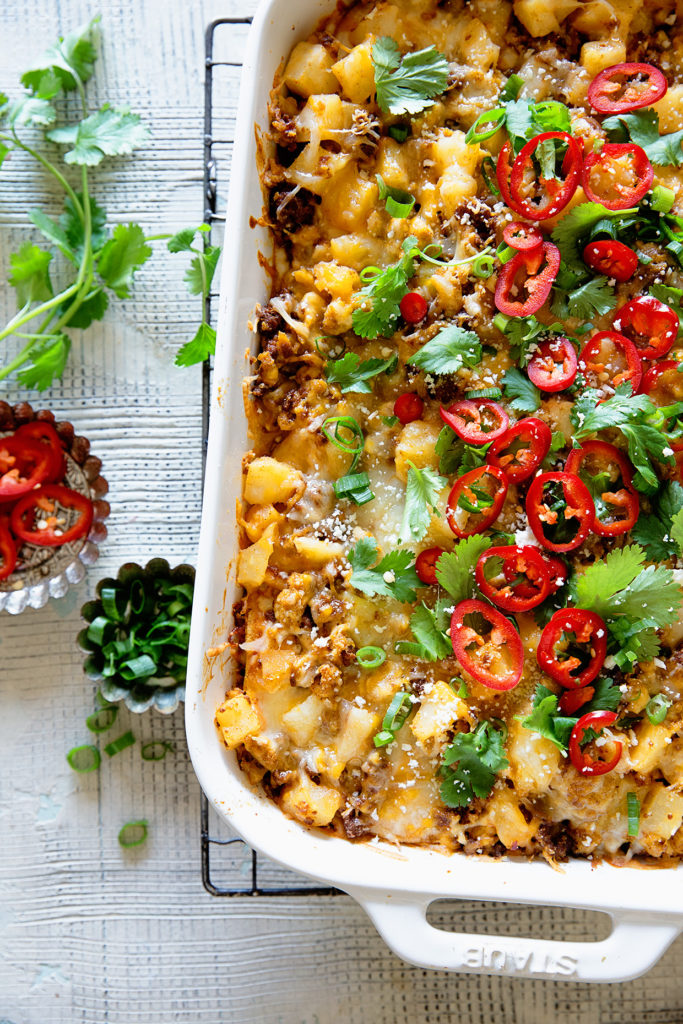 My mom came over last night and what we didn't finish went home with her. I figured I needed to move it out of the house since I already had too many servings after having two helpings at breakfast and dinner.
I regretfully saved Naomi one serving that is now staring back at me under the plastic wrap. I wouldn't have given it a second thought but Naomi told me her breakfast plans for tomorrow included smothering it with avocado and two fried eggs.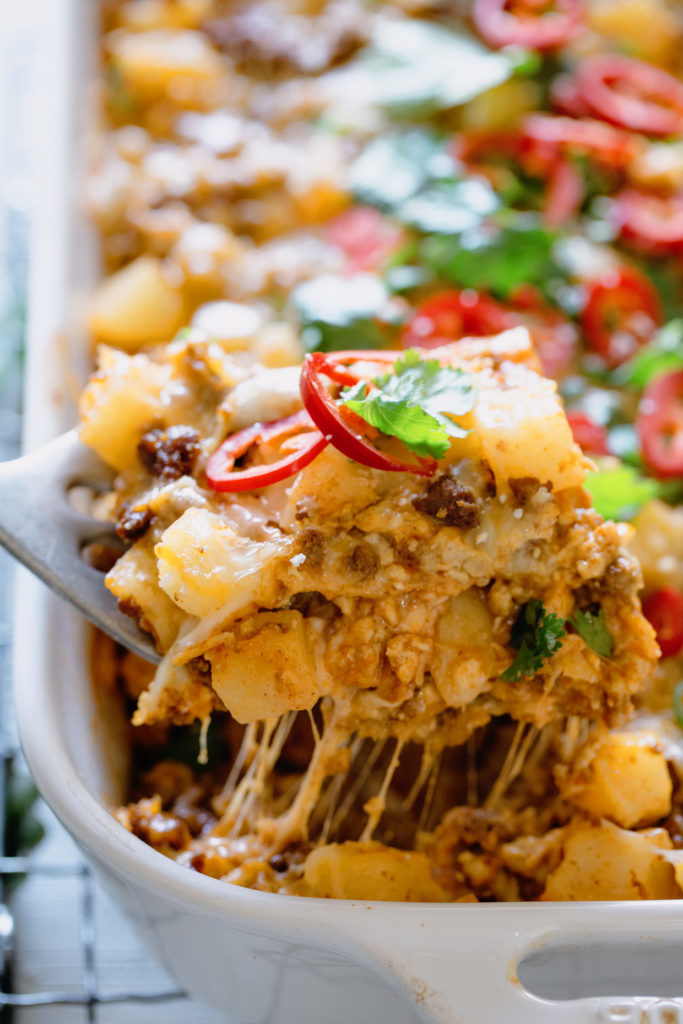 Why didn't I think of that? Instead, I will jealously be staring at Naomi's breakfast while I spoon my way through a smoothie bowl.


Yield: Serves 8 to 10
Breakfast Enchilada Casserole Recipe
Ingredients
1 lb. breakfast potatoes, not frozen
1 lb. chorizo sausage
1 cup onion (about 1 medium onion), diced
1 green bell pepper, chopped
12 large eggs
1/3 cup whole milk
1 tablespoons chipotle chili powder
1 tablespoon garlic powder
1 tablespoon onion powder
2 teaspoon cumin
1 teaspoon smoked paprika
1 teaspoon kosher salt
1/4 teaspoon cayenne pepper
1/4 Jamaican All-spice
1 28 oz. can enchilada sauce
3 cups Mexican cheese
2 cups pepper jack cheese
jalapenos, sliced
green onions, chopped
cilantro, chopped
Instructions
Bring 5 cups of water to a boil in a large saucepot. Add breakfast potatoes and cook until fork tender, about 7-9 minutes. Drain and set aside.
In large skillet, over medium high heat, add chorizo, cook until browned about 5 to 7 minutes, stirring to break up any clumps. Add onions and bell pepper, cook until softened, about 4 minutes. Add potatoes and stir to combine. Season with salt and pepper to taste. Transfer chorizo mixture to a large bowl and set aside.
Heat oven 350 F.
In a large bowl, beat together then next 10 ingredients. Heat a non-stick skillet with 1 tablespoon of oil over medium heat. Add eggs to skillet and cook over medium heat. Stir and cook until scrambled eggs are set.
Combine the egg mixture into the bowl with the chorizo mixture, fold to combine. Add all but 1 cup of enchilada sauce and stir to combine. Spread 1/2 cup of enchilada sauce onto bottom of a 9x13-inch casserole pan. Layer with 6 corn tortillas followed by half of the chorizo and egg mixture, then top with half of the Mexican and pepper jack cheese. Repeat one more time.
Transfer casserole to heated oven and bake for 20 to 25 minutes or until cheese is melted. Remove from oven and set aside to for 10 minutes prior to cutting. When ready to serve, top with green onions, cilantro and jalapenos.