Even though Mother's Day has come and gone, as has this dish I specifically made for Mother's Day dinner, it's managed to work it's way into our family meal rotation.
Can you see why? Here's the big hint—it's super easy to make and it was gone in seconds.
In fact, I was hoping for leftovers because I had a baseball double-header to coach on Mother's Day. I know, can you believe that—a double header? That pretty much knocked the celebratory day short by 5 hours because the games started with warm-ups at 4:30 and the last game ending at 9:30. Fortunately, I didn't do the schedule, so I was saved from any possible flack from the parents. At least, to my face.
On the even more fortunate side, Naomi loved this dish, of course she did, it's right up her alley with the crisp vegetables and lightly-sauced chicken. And shhhh . . . I think this dish saved me, because well, I'm pretty sure she was glad that I put my #putaneggonit obsession at rest for this meal. But had there been leftovers—an egg was going to be cracked, for sure!
Now, don't wait for Mother's Day of next year to whip this up—you totally got this, so do it!
Yield: 4-6
Braised Chicken with Green Beans and Potatoes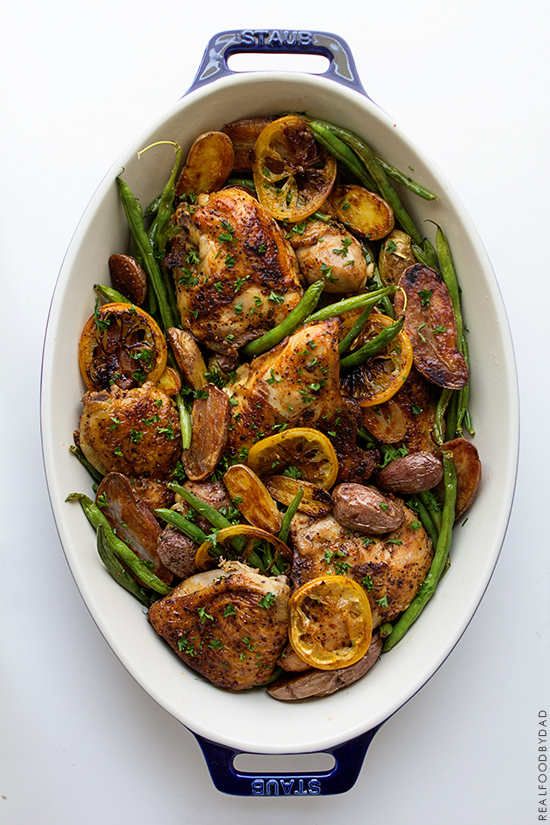 Ingredients
2 lb. fingerling potatoes
1 lemon, sliced
4 lbs. assorted chicken pieces
6 tablespoons olive oil
salt and freshly ground pepper
6 shallots, chopped
3 garlic cloves, chopped
3 cups Marsala wine
1 tablespoon tarragon
2 cups green beans
Instructions
Heat oven to 350 degrees F.
Halve fingerling potatoes, Toss in 3 tablespoons olive oil; season with salt and pepper. Spread potatoes out into a roasting pan. Slice lemons and add to roasting pan. Transfer roasting pan to oven and cook at 425 degrees until edges start to brown, about 15-20 minutes. Remove from oven; set aside.
Rub oil onto chicken pieces and season with salt and pepper. Heat large heavy bottom skillet over medium heat. Working in batches, so the chicken is not crowded, sear the chicken, turning occasionally until brown, about 10-15 minutes. Transfer to a large plate; set aside.
Discard all but 1 tablespoon of fat from the pan. Over medium high heat saute the shallots and garlic until softened, about 5 minutes. Add marsala, increase the heat and bring to a boil, cook until reduced by half, about 10-15 minutes. Stir in tarragon. Pour sauce into roasting with the potatoes. Arrange the chicken in a single layer in the sauce. Cook in the oven until chicken is almost completely opaque, about 30 minutes. Toss green beans into pan and cook for 10 more minutes.
Increase heat to 400 degrees F and cook until edges of chicken skin is crisp, about 5-7 minutes. Transfer to a platter and sprinkle with flat leaf parsley.