Black Bean Dip ~ Bookmark this hot and cheesy party dip! It's fast and easy to make and requires less than 10 minutes of prep.
The summer games are finally here and the boys and I have our viewing line-up ready to go. But first food because what's a sporting event without good eats.
**This is a sponsored post written in collaboration with Crockpot™ Express Oval Pressure Cooker. All thoughts and opinions are my own.
First up is what you see here, the Black Bean Dip. It's incredibly easy to make, you, can also make it with pinto beans for a more classic bean dip. I just happen to prefer black beans, so that's why you see it here.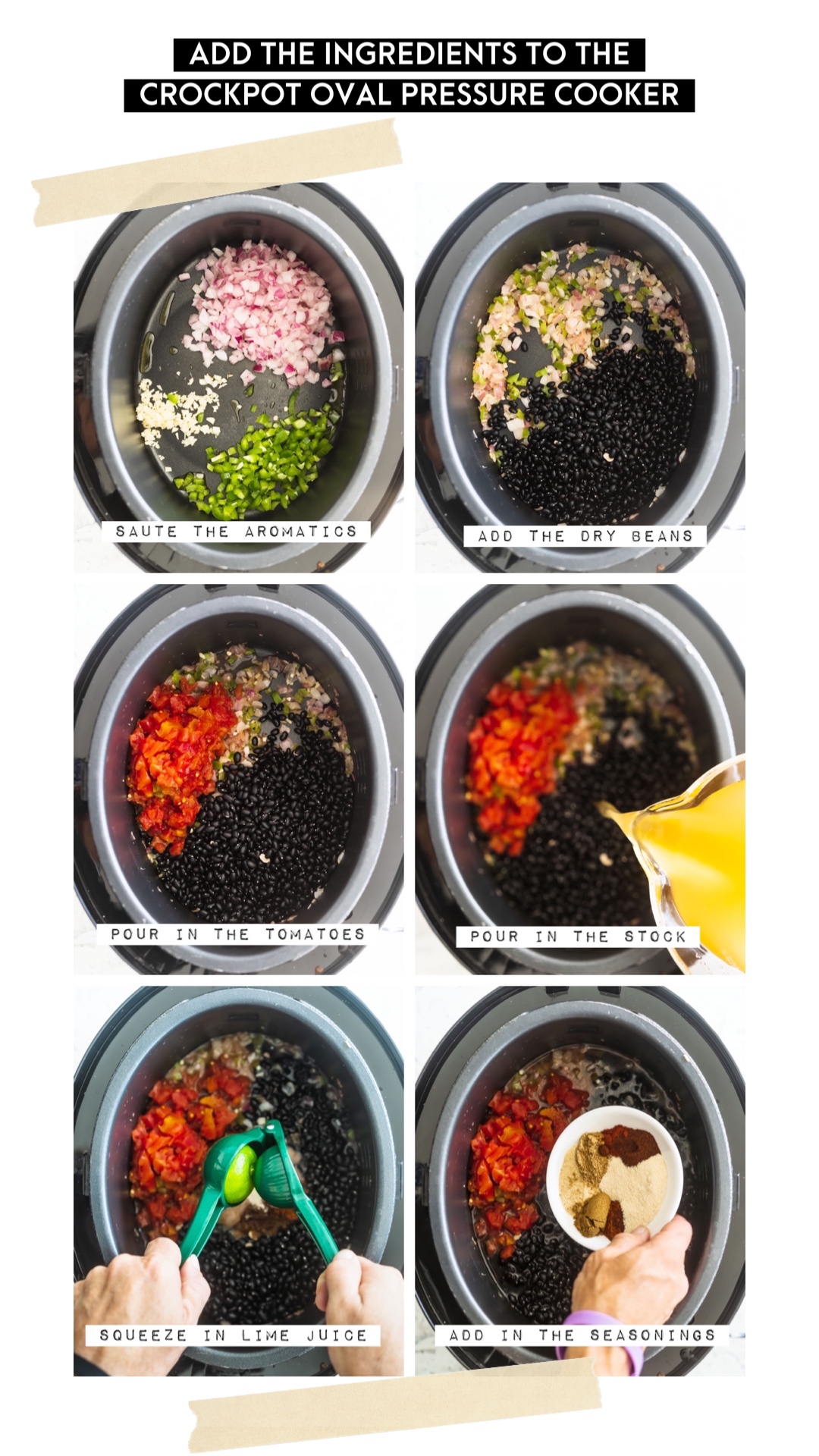 To start, and to make all your life easy, get yourself a Crockpot™ Express Oval Pressure Cooker. It replaces 9 appliances like a: saute pan, slow cooker, stock pot, yogurt maker, food warmer, steamer, rice cooker, dessert maker, and stovetop pressure cooker. The large capacity makes it so you can easily make large meals to serve 7+ people.
Cooking beans in Crockpot™ Express Oval Pressure Cooker means, no soaking, no hours upon hours of stovetop babysitting. Beans cook in 30 minutes or less.
For this recipe you'll start with the saute function and brown the aromatics for maximum flavor. From there the remainder of the recipe requires nothing more than adding in the remaining ingredients.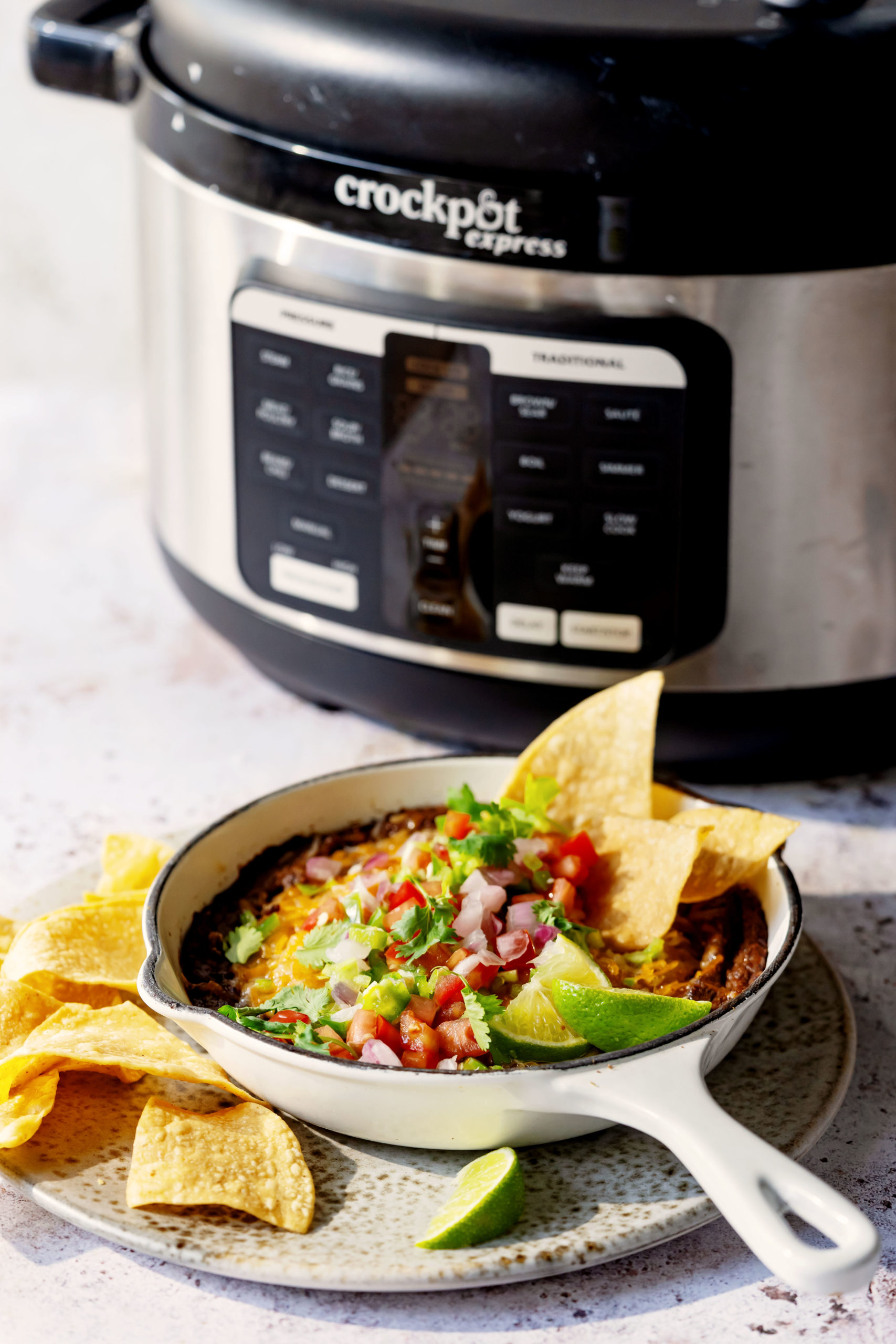 . . . . That's it. Easy, right?
Trust me when I say you and your family will love this bean dip recipe. Enjoy!
Yield: 6 cups | Serves 6 - 8 ppl
Black Bean Dip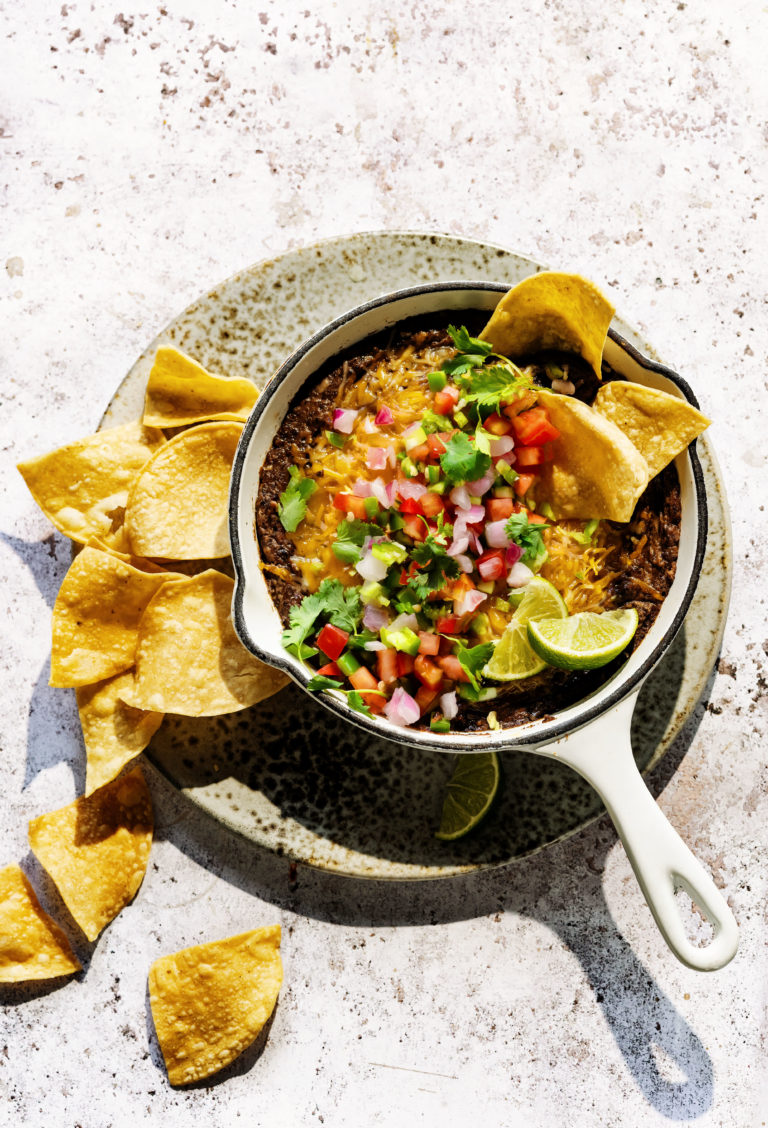 Ingredients
1 large onion, diced
1 large jalapeno, diced
2 garlic cloves, minced
2 cups (14 oz.) dried black beans
1 (14.5oz) can of diced tomato and chilis
2 cups of vegetable stock
juice of 1 lime
1 tablespoon garlic powder
1 tablespoon onion powder
2 teaspoon cumin
2 teaspoon coriander
1 teaspoon chili powder
1 teaspoon chipotle chili powder
1 teaspoon smoked paprika
1 (8 oz) block of cream cheese
1 1/2 cup Mexican Cheese blend
Toppings
onions
jalapenos
roma tomato
cilantro
Instructions
Set the Crockpot Oval Express Pressure Cooker to saute. Add oil, onion, jalapeno and garlic and saute aromatics until softened, about, 2 minutes.
Add the remaining ingredients, stir to combine. Close the lid and turn the handle to the lock position. Make sure the vent is closed for natural release. Press the beans settings, set the timer to 30 minutes and press start.
Leave the beans on natural release for 10 minutes then turn the knob for manual release. Let the steam vent for another ten minutes. Open the lid and stir to combine.
Add cream cheese and using an immersion blender, process the mixture until the beans are pureed and the cream cheese is fully incorporated. Taste and add salt if needed.
Scrape bean mixture into a oven-proof pan and sprinkle cheese on top. Broil on low until cheese is melted, about 3 minutes. Finish with toppings. Serve immediately.