Next to the holidays, the Super Bowl might be my favorite event of the year. Even more so now because boys are big football fans, so naturally I love lazy Sundays, where we all sit around and watch the games.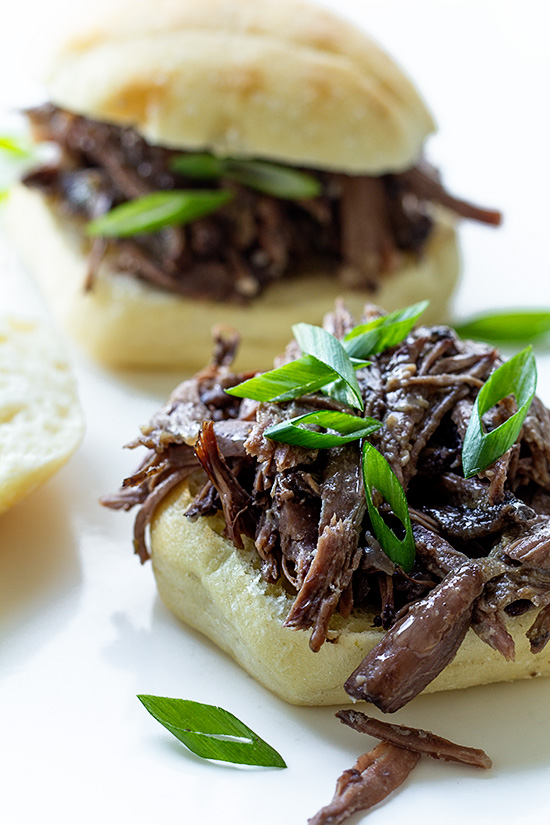 But on the big game day, that's another story—it's game + food and everything else in between is white noise. That is unless you are Naomi, who watches the Super Bowl for the food + commercials. Being that both of us have food in our equation, I figured I had better start upping my game.
That's what happens when you have two food bloggers in the house – we are competing for best food and our audience: 2 boys + a toddler. The grand prize: bragging rights for the day.
I'm pretty sure I got this one. These beer braised short rib sliders will be a big a hit. So when you are shopping the recipe, make sure you pick up La Brea Bakery's Telera Sliders. You don't want to get wimpy bread for this. La Brea Bakery is the #1 selling artisan bread in the country. These hearth-baked, golden brown, soft sandwich rolls have a mild sourdough taste and slight touch of sweetness. Best thing about them—they are available nationwide at most major retailers.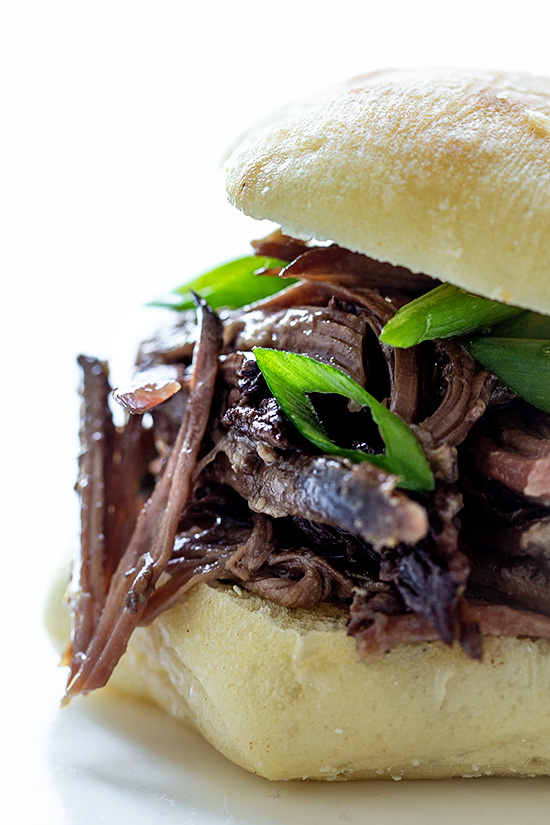 And since this is post is sponsored by La Brea Bakery, let's get down to some serious fun. La Brea Bakery is running a Super Bowl Sweepstakes #SnackOn. You are going to want to go here for your chance to win two tickets to the game, travel and accommodation included. The sweepstakes is currently going on now and will run through today, January 22 when the winner is announced.
There you have it – go enter and bookmark this for some game day eats!
Yield: Makes 6 sandwiches
Beer-Braised Short Rib Sliders
Ingredients
2.5 lbs. bone-in beef short ribs
kosher salt and freshly ground black pepper
3 tablespoon onions
1 large onion, chopped
6 medium carrots, chopped
3 celery stalks
1/4 cup celery leaves
2 tablespoons all-purpose flour
1 tablespoon tomato paste
1 tablespoon Terriyaki sauce
1 12 oz. dark beer (I used Chimay)
8 sprigs thyme
5 sprigs oregano
2 sprigs rosemary
3 fresh bay leaves
1 garlic head, halved crosswise
4 cups beef stock
Instructions
Heat oven to 350°. Sprinkle salt and pepper over short ribs on all sides. Heat oil in a large Dutch oven over medium-high heat. Brown short ribs on all sides, about 12 minutes. Transfer short ribs to a plate.
Add onions, carrots, celery and celery leaves to pot and cook over medium-high heat, stirring often, until onions are browned, about 5 minutes. Add flour, tomato and teriyaki sauce; cook, stirring constantly, until well combined and deep red, about 2-3 minutes. Stir in wine, then add short ribs with any accumulated juices. Bring to a boil; lower heat to medium and simmer until wine is reduced by half, about 25 minutes. Add all herbs to pot along with garlic. Stir in stock. Bring to a boil, cover, and transfer to oven.
Cook until short ribs are tender, about 2–2½ hours. Transfer short ribs to a platter and let cool enough to handle and shred. Strain sauce from pot into a measuring cup. Spoon fat from surface of sauce and discard; season sauce to taste with salt and pepper. Layer bread with shredded meat and serve with sauce on the side.
Recipe adapted from Bon Appetit

This post is in collaboration with La Brea Bakery. All opinions and text are my own.