**This is a sponsored post in collaboration with Land O'Lakes**
On those occasions when I don't do a big meaty breakfast, I often reach for a stack of these classic buttermilk pancakes. Not only do my boys love them, but pancakes are Naomi's favorite, so we go through this faster than any other breakfast. Along with that, they love it with a heavy smear of Land O'Lakes® Honey Butter Spread.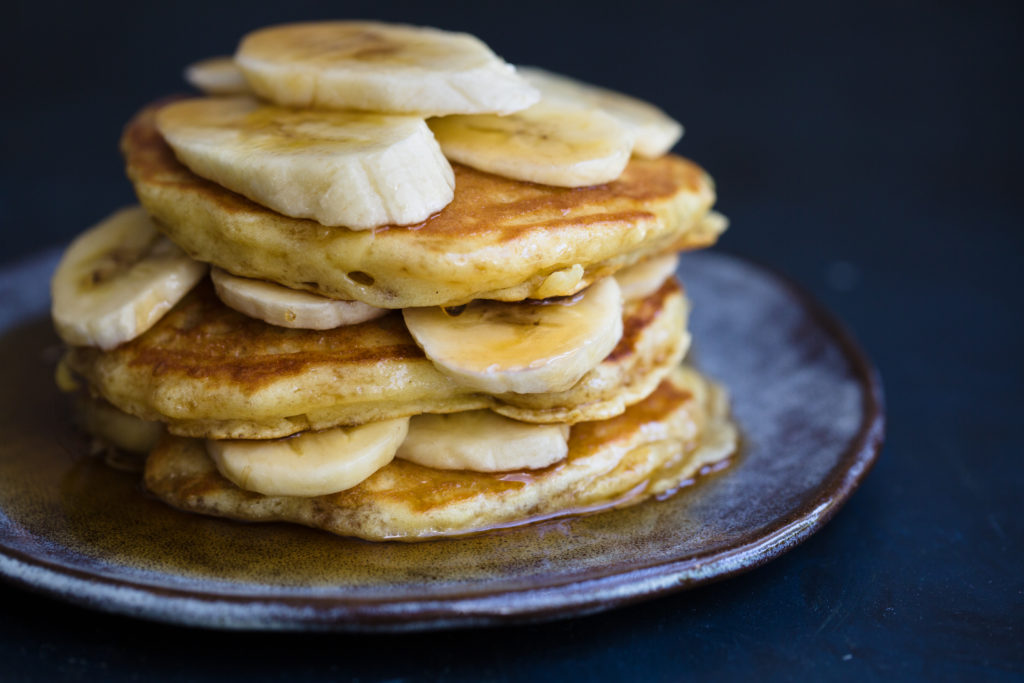 Have you tried this butter spread? It's amazing! By amazing I mean, not only does it taste great, but it makes breakfast time that much easier. My boys will take it on their seed-filled toast, bagels, pancakes, waffles and just about anything else they can spread it on. Even untraditional things like sliced raw carrots, saltine crackers—I'm pretty sure left to their own devices they would eat straight out of the tub, especially my toddler.
To put this butter obsession into perspective, my toddler also eats the butter pats at restaurants like they are after dinner mints. No exaggeration. He is the ultimate butter fan and will consume it in any form.
So when it comes to Land O Lakes® Honey Butter Spread, I literally have to make sure he doesn't go rogue and go spoon-to-mouth from the tub. One way is to make sure there are plenty of vehicles for him to enjoy it—these Banana Honey Pancakes are his favorite.


Yield: 8 4-inch panckaes
Banana Honey Pancakes
Ingredients
1 ½ cups all-purpose flour
3 tablespoons sugar
1 teaspoon baking powder
1 teaspoon baking soda
½ teaspoon salt
1¼ cup buttermilk
¼ cup sour cream
2 large eggs
2 tablespoon Land O Lakes® Unsated Butter, melted
1-2 tablespoons canola oil
2 large bananas
maple syrup
Land O Lakes® Honey Butter Spread
Instructions
In a large bowl whisk together all-purpose flour, sugar, baking powder, baking soda and salt. Set aside. In second bowl whisk together buttermilk, sour cream, eggs and melted butter spread. Stir the wet ingredients into the dry ingredients, taking care not to over mix. Batter will be lumpy. Set batter aside to heat griddle.
Heat griddle to 300 degrees F. Light brush griddle with oil. Pour about 1/3 cup of batter onto griddle, leaving 1 ½ inches between each pancake. Cook until bottom is golden brown and top surface starts to show bubbles. Flip and cook for another 3 minutes or just until bottom is golden brown.
To serve, spread Land O Lakes® Honey Butter Spread on top of a pancake and layer with banana slices, repeat twice more for each stack. Serve with maple syrup.