We love pizza in my home and this Balsamic Kale & Chicken Sausage Pizza is no exception. It's full of flavor and the crust, well the crust – it has pureed chickpeas, coconut oil and dry ranch dressing in it. Needless to say, it's tender, chewy, delicious and—pssst . . . healthy!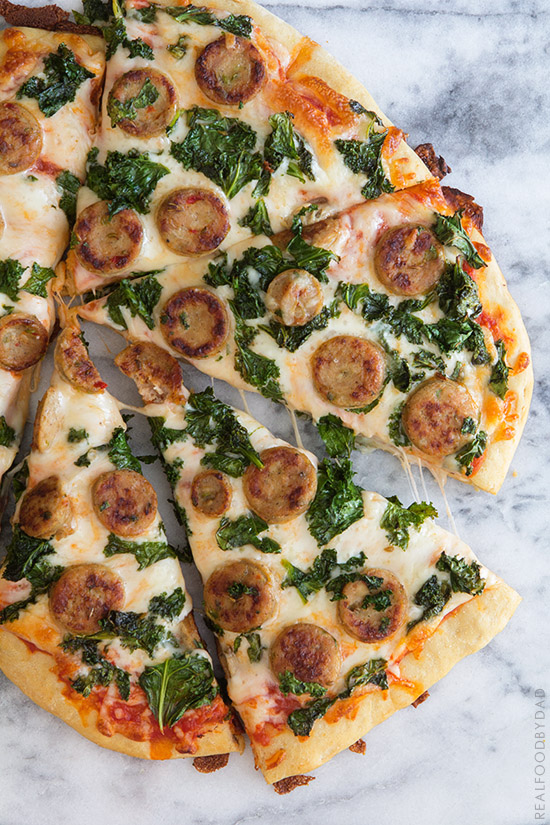 That's always a plus, especially when I have this on hand to offset our sometimes not-so-healthy meals. In my house, finding balance rules. To help me along with that, I have an army of healthy recipes, tricks and ideas, so when I can add to that stockpile for variation, I do it. My latest addition is from Kelly Pfeiffer's new book Superfoods at Every Meal.
What I really enjoy about this book is the straightforward simplicity of how to use ten everyday, easy-to-find, nourishing ingredients like: quinoa, chickpeas, kale, sweet potatoes, blueberries, eggs, honey, coconut oil, greek yogurt, and walnuts. And to make things even easier, "each recipe features at least two (and oftentimes four or five) of these superfoods".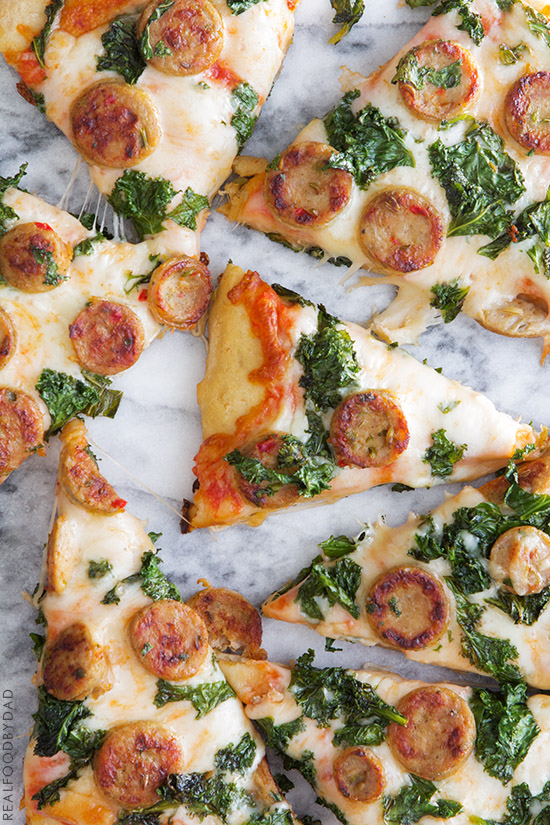 And don't worry, healthy superfood doesn't mean you're going to miss out on any rich flavors. Nope, the book is already dog eared for recipes like: Chipotle Cheesy Corn Dip, Sweet Potato Mac & Cheese, and Corn & Black Bean Quesadillas—see what I mean?
All that said, grab your copy of Superfoods at Every Meal and get superhuman with the "power ten".
Up for grabs: A copy of Superfoods at Every Meal + a Cuisinart Immersion Hand Blender!
To enter: Leave a comment below with your favorite superfood (check out the list above!) or why you want to win a copy of the book.
Giveaway ends 3/5/15 at 9PM EST.
Yield: one 12 inch pizza
Balsamic Kale & Chicken Sausage Pizza
Ingredients
For the crust
1 cup hot water (120 degrees F)
1 1/2 teaspoons active dry yeast
1 1/2 teaspoons sugar
1/2 cup (120 g) chickpeas, rinsed and drained
1/2 teaspoon salt
1 1/2 teaspoon dry ranch dressing mix
1/2 teaspoon dried oregano
1/2 teaspoon basil
2 1/4 cups (270 g) unbleached all-purpose flour
For the pizza
1 teaspoon coconut oil
1 cup (70 g) diced de-stemmed kale
1 teaspoon balsamic vinegar
1 teaspoon basil paste or 6 fresh basil leaves
2 chicken sausages, sliced
3/4 cup pizza sauce
2 cups (240 g) shredded mozzarella cheese
Instructions
To make the crust: Combine the hot water, active dry yeast, and sugar in a medium-size bowl. Let the mixture sit for 15 minutes. The yeast should activate and become foamy.
Add the chickpeas and coconut oil to the yeast mixture. Use an immersion blender-a food processor or blender will also work- to puree until smooth. Add the salt, ranch mix, oregano, basil and flour and mix thoroughly. Use your hands to roll it into a ball, kneading 2 or 3 times. Covere with plastic wrap and refrigerate for 4 to 8 hours. before baking.
Preheat the oven to 425 degrees F. Spray a baking sheet with nonstick or place a pizza stone (I used my steel pizza stone) in the oven to preheat.
To make pizza: Turn the dough out onto a floured surface and knead it 10 times. Use a rolling pin to flatten out the dough to 12 to 14 inches in diameter and 1/2 inch thick. Transfer to the prepared baking sheet or use a peel to transfer it to the hot pizza stone. Bake the crust for 10 minutes.
Meanwhile in a medium skillet over medium heat, melt the coconut oil. Add the kale, balsamic vinegar, basil paste and sliced chicken sausage. Saute for approximately 5 minutes, or until kale is softened and the sausage is heated through and lightly browned.
Remove the partially baked dough from the oven, spread the pizza sauce to within 1 inch of the edge, sprinkle on the cheese and top with sauteed kale and chicken sausage. Bake for an additional 10 minutes, or until the cheese is melted and slightly browned. Slice and serve hot.