Bacon & Asparagus Quiche ~ A spring quiche filled with the asparagus, chives, bacon and sharp cheddar. It's the perfect easy-to-make dish for the weekend brunching or weeknight dinners.
Asparagus season is here, so you should definitely bookmark this recipe as one to highlight the season. Once you do, get that grocery list together and head to your nearest Kroger for the freshest selection of asparagus along with every produce from your local farm. Aside from the produce, I'm a big fan of Kroger's Simply Organic line. It's affordable and always top-shelf quality.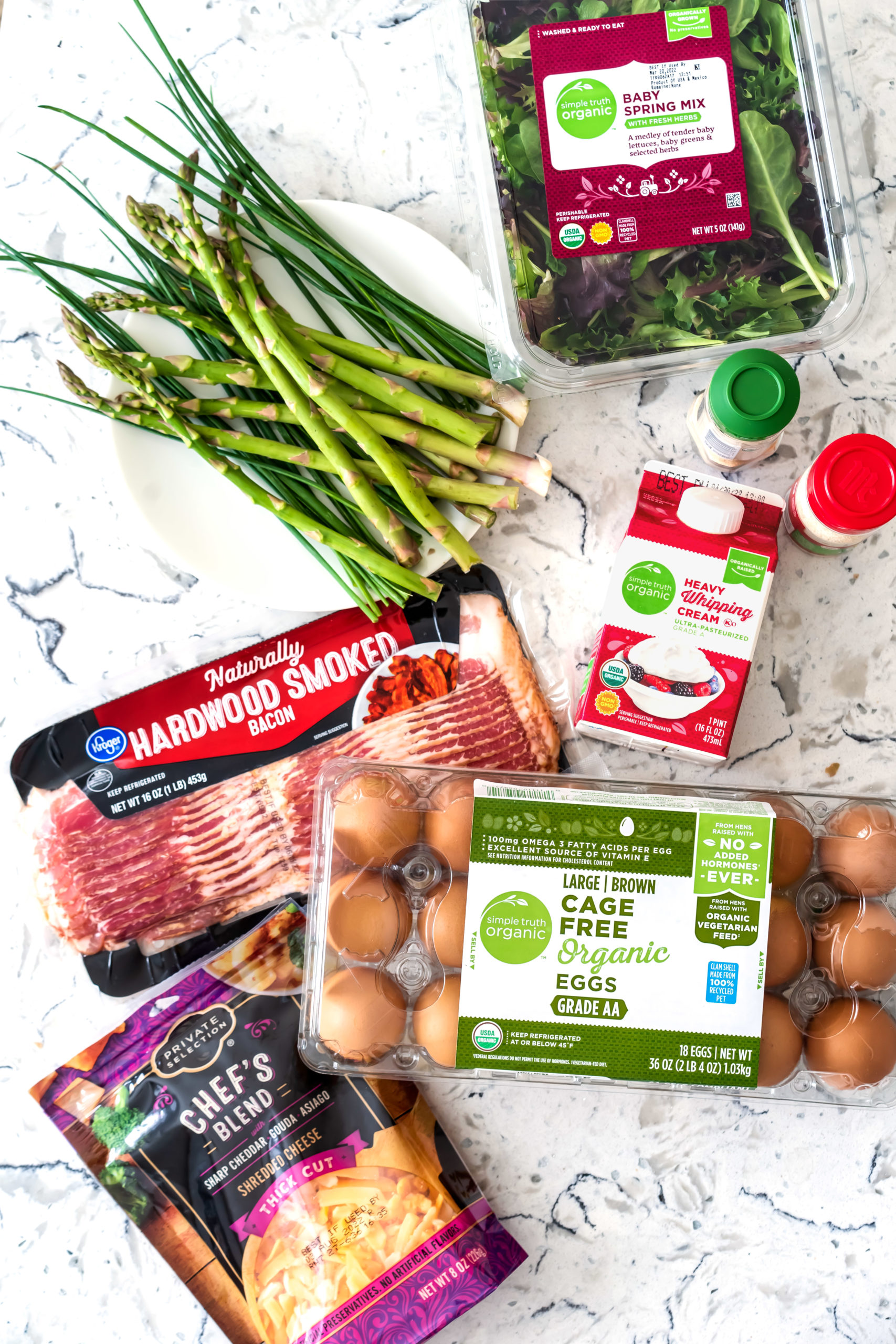 **This is a sponsored post in collaboration with Kroger. All thoughts and opinions are my own.
You can make this and serve it immediately, or you can do as I often do, which is to make it as a meal for later in the week. I've never been heavy into meal prepping, mainly because it requires time and discipline that my schedule didn't allow for—but because of my schedule, I've learned to be a meal prepper. This quiche recipe is definitely one that makes the cut for repeat appearances.
You can easily do that by swapping out the main flavors to match the season, i.e. if it's summer, try swapping out the asparagus for summer squash and the bacon for sausage. You can even go meatless on this with a plant-based meat substitution and use mushrooms for the veggies. There are nearly endless options and combinations for how flavor this recipe and make it your own.
Now that we have the ingredients covered, let's talk details before you get started:
This quiche recipe has no crust? Will it work if I add one?
Yes, you can can use anything from a traditional butter, to puff pastry or phyllo dough
Can I use different cheeses?
For sure, just keep the ratios intact. Fontina, American, raclette or gruyere will work well.
Can heavy cream be swapped for something lighter?
You can swap out the heavy cream for half and half.
Will individual serving of this work baked in a muffin pan?
Absolutely, either line the wells with liners, or lightly cover the wells with non-stick spray. Bake at 325F. Start checking for doneness at 20 minutes. The quiches should jiggle just slightly when the pan is tapped. Remove from oven and set pan aside on a wire rack to cool for 5 minutes before removing quiches from tin.
Yield: Serves 4 to 6
Bacon & Asparagus Quiche
Ingredients
6 large eggs
1 1/2 cups heavy cream
1/2 cup whole milk
½ lb. bacon, cooked and crumbled
½ lb. asparagus, cooked to preferred doneness and chopped to ¼-inch pieces
1/3 cup chives, finely chopped
1 teaspoon garlic powder
1 teaspoon onion powder
1 teaspoon kosher salt
1 teaspoon fresh black pepper
¼ teaspoon paprika
2 cups sharp cheddar cheese
1/2 cup (2 oz.) grated Parmesan cheese
Instructions
Heat oven to 325 degrees F. 

In a large bowl whisk together 6 eggs. Add the cream and milk, whisk to combine. Add bacon, asparagus, chives, garlic powder, onion powder, kosher salt, fresh black pepper and paprika; whisk to combine. Fold in both cheeses. Pour mixture into a deep 9-inch quiche dish or pie pan. (Or to make individual quiches, like the picture, divide mixture among six 4-inch molds.)

Transfer pan to the oven and bake for 45 to 50 minutes or until center slightly jiggles when pan is tapped. Remove from the oven and transfer to a wire rack to cool for 15 minutes before serving.