**This is a sponsored post in collaboration with JUST.
Are you ready to kick start back-to-school season with this power scramble that is not only better-for-you and delicious but also very easy to prepare and kid-friendly? This recipe is made with Just Egg, a protein-packed, non GMO, cholesterol-free product made with a 4,400 legume called mung bean. It scrambles and tastes like a chicken egg. It's the newest product from JUST, a company that has products crafted by Michelin starred chefs, so you know the taste is spot on. The company's goal is to create healthier, more sustainable food that is accessible to all.
I know mind blown, right?
Here's how Just Egg tastes—just like eggs—the mung bean scrambles and cooks like eggs and the turmeric in it gives Just Egg a natural golden color. No weird grainy texture, no off putting flavors, and it's kid approved. It's also perfect for people who have egg allergies and can't consume chicken eggs which is especially true for kids today as egg allergens are increasingly more common.
My boys love it. Lucky for me this is a family friendly recipe, so that means my kids eat it like we do—no substitution, no picking their way through it.
However I do know that not all kids likes spinach as much as mine do—full disclosure—my kids prefer it cooked, and if it's not, it better be drenched in something like dressing.
Given that let's talk back-to-school. Like many of you, I'm counting the days and checking off our to-do list daily. While I have meals ready for those frenetic mornings, I'm still working through school supplies and back to school shopping. To help where I can, I thought I would share a couple of additional ideas for this recipe to add to your back-to-school breakfast toolkit.

Here are few different add-ins if you want to sub out the spinach, just be sure to keep the other ingredients for flavor building:
Denver Breakfast Hash: To Just Egg, add 1 cup of cooked hash browns, 1/3 cup of diced pancetta ¼ cup of finely chopped red bell pepper and 1 cup of cheddar cheese.
Taco Breakfast Scramble (this is a family favorite) – To Just Egg, add 1 cup shredded Tempeh, 4 tablespoons of taco seasoning (omit the other seasonings from the recipe below). Top with avocado, salsa and pico de gallo.
If anyone else has other ideas, share them in the comments because no one wants to be a short order cook during those busy school mornings.
For more ideas for how to cook with Just Egg, check out their to see how you can use it to make French toast, fried rice and other fun recipes.
To bring Just Egg to your favorite local grocery store or restaurant check out this link: ju.st/demandjustegg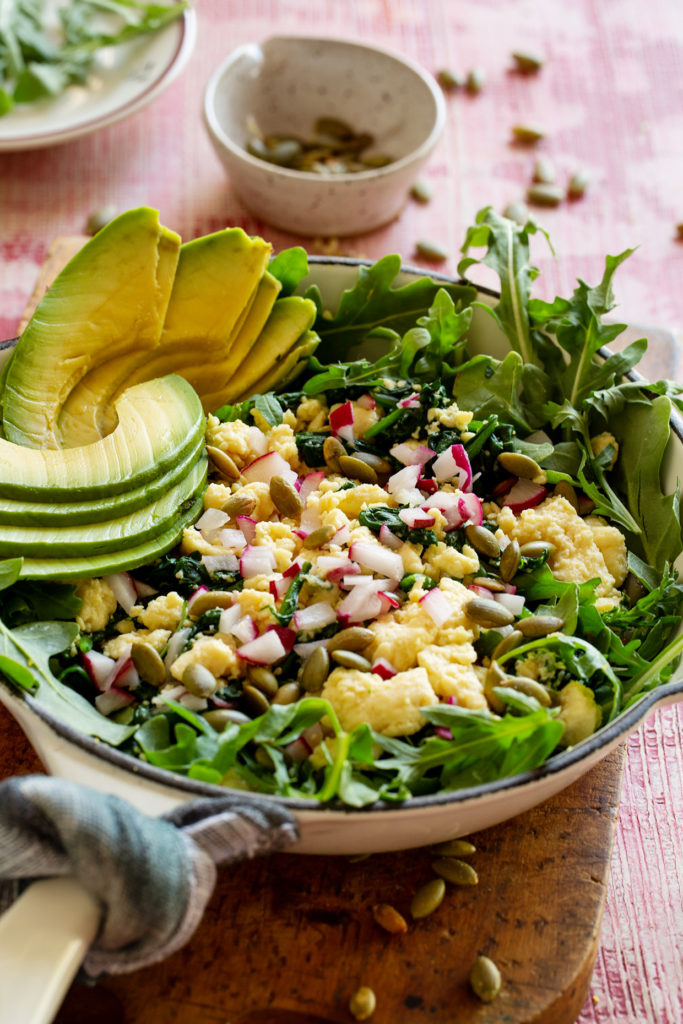 Yield: Serves 2
Back-to-School Scramble
Ingredients
1 tablespoon olive oil
1 shallot finely chopped
9 oz. spinach
12 oz. Just Egg
1 teaspoon kosher salt
1/2 teaspoon garlic powder
1/2 teaspoon onion powder
Toppings
1 -2 avocados
3 to 4 radishes, finely chopped
2-3 tablespoons salted pumpkin seeds
Instructions
Heat skillet over medium heat. Add oil and shallots. Saute shallots in oil for 2 to 3 minutes. Add half of spinach to the pan and turn leaves in warm oil until they wilt. Add remaining spinach to the skillet and turn once more until all the spinach is wilted and well combined.
Add Just Egg, stir slowly with a rubber spatula. Continue to stir until large curds begin to form, then fold the curds in the pan until no more liquid is visible. Season with salt and pepper. Remove from heat and serve over arugula and top with avocado and pumpkin seeds.