There are a lot of nacho recipes around here, so today I'm doing nachos with a twist. I'm going carb-less and healthy-ish with this Baby Bell Pepper Nacho recipe for this year's Cinco de Mayo gathering. 
But first the backstory on how these came to be. 
Most times, I cook with just a few things in mind. Things like: will the kids eat this, will I like it, will they like it, do I have time? You know, the usual normal stuff you consider before you start prepping. 
Nowadays, in addition to that, I also have to come up with a good reason and an exit plan to extract myself from toddler play time. Needing to cook and feed the family just aren't good enough, because the little man is very aware and not afraid to shout, "Mom can do it. Make her do it."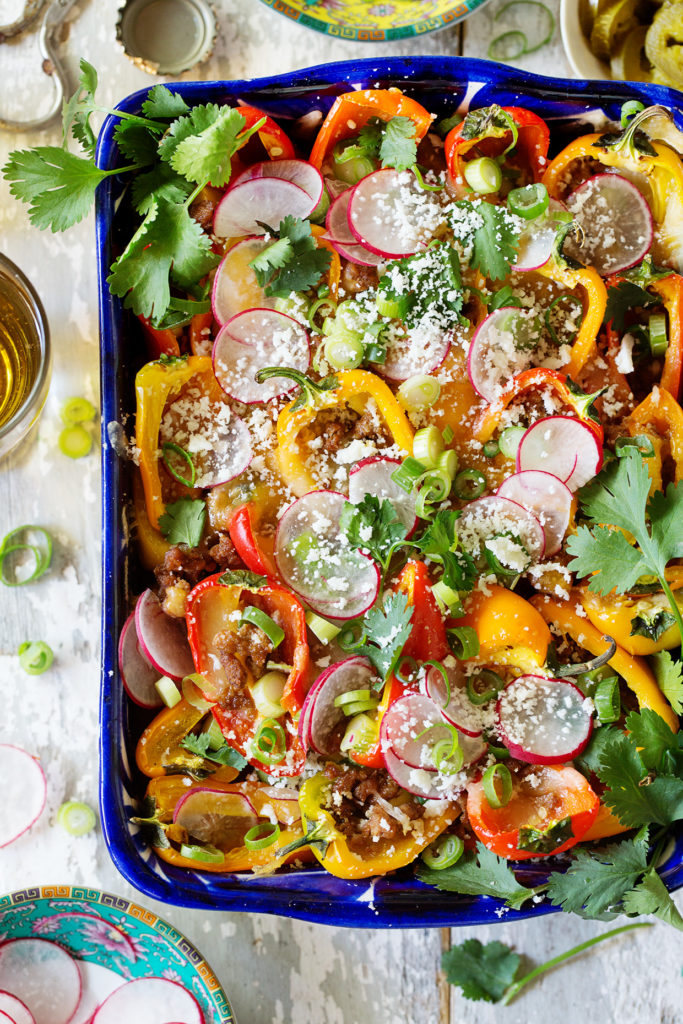 When I'm feeling lazy, that's all great and good. But when it's my turn to cook, there's no special pass that gets me out of it. I just have to commit and cook through the tantrum, or more often then not, learn to multi-task between being an Avenger and the cook. 
Some days it's harder than others, and somedays not so much because I settle on an easy recipe like these Baby Bell Pepper Nachos to tide us over until UberEats delivers. 
It may be my night to cook, but there are no rules against short cuts and besides I needed to give this Cinco de Mayo recipe a run through. 
Yield: Serves 4
Mini Bell Pepper Nachos
Ingredients
1 pound baby bell peppers, halved and deseeded
1 pound chorizo, cooked and drained
2 cups Mexican Cheese
1/2 cup chopped scallions
Toppings
1/4 cup cilantro
1/4 cup thinly sliced radishes
4 tablespoons Cotija cheese
Instructions
In an oven-proof casserole pan or baking sheet, assemble two layers consisting of bell peppers, chorizo, cheese and scallions. Bake at 350 degrees F until cheese melts, about 4-5 minutes.
Serve immediately with toppings.