Asian Pork Burgers ~ A pork filled patty with a few familiar Asian flavors to mix up your burger game.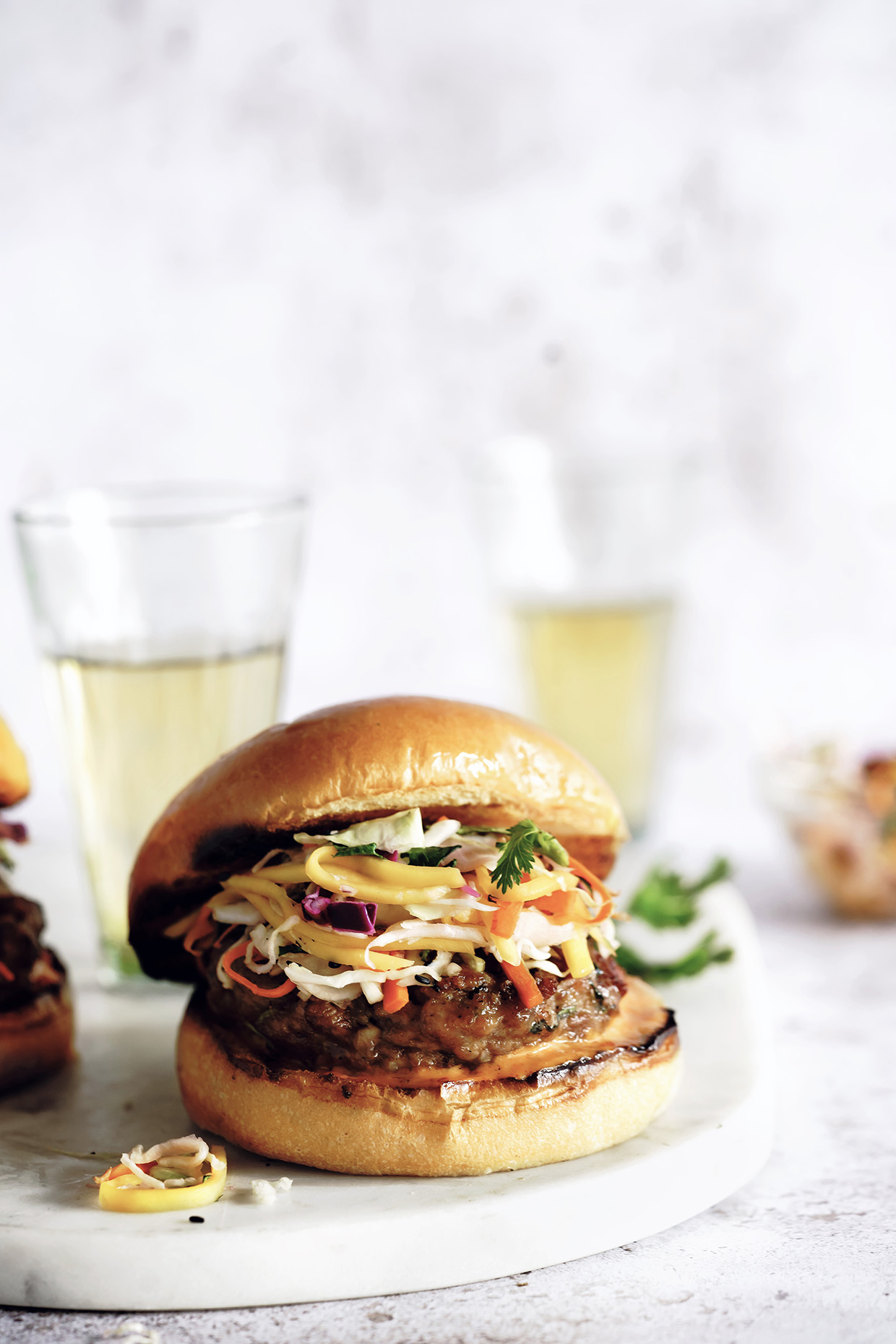 Like many of you, burgers are always on regular rotation in my home. To keep it interesting beyond the classic, I will mix up our burger repertoire with everything from veggie burgers and turkey burgers to these Asian Pork Burgers.
These pork burgers involve the basic Asian flavors like sesame oil, soy sauce and grated ginger. They're not hard to make and come together in minutes, so the next time you think burgers are boring, give this a shot.
Pair it with the mango slaw and it becomes a vehicle for summer freshness. This also works really well with pickled carrots, cucumbers, diakon and fresh cilantro. If you really want to take this down the Asia profile path, skip the brioche buns for Bao Buns. Now, unless you are willing to make those bao buns yourself, which I'm not, you can often buy them from Asian restaurants. It's a fun twist and always a crowd pleaser.
A few notes before you get started on this Asian Pork Burgers:
Where do I find ground pork?
You can find in it the regular meat section of any store. If ground pork isn't available at your grocery store, ask the butcher to grind up some pork shoulder.
There's only 1 1/2 teaspoons of sesame oil. Do I really need it?
Yes. Don't skip the sesame oil, you don't need a lot, but it ADDS ALOT.
I don't do spicy, so can I skip the Sriracha aioli?
You can, but it does give the whole ensemble a sweet and spicy combo when paired with the mango slaw.
For more burgers, grab some of the recipe below:
Grilled Corn and Zucchini Burger
,
Southern BBQ Burger
,
The Brunch Crunch Burger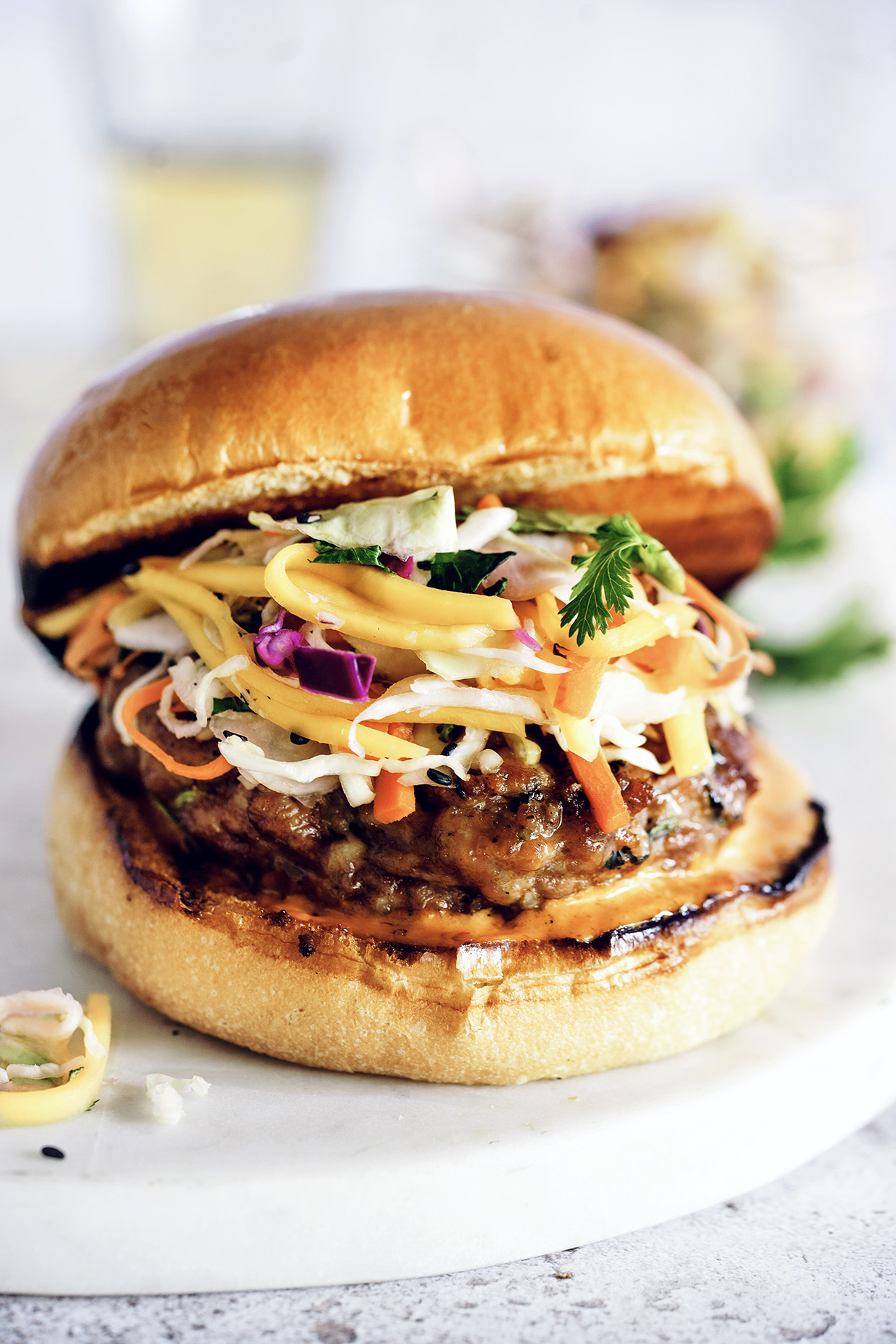 Yield: Serves 4
Asian Pork Burgers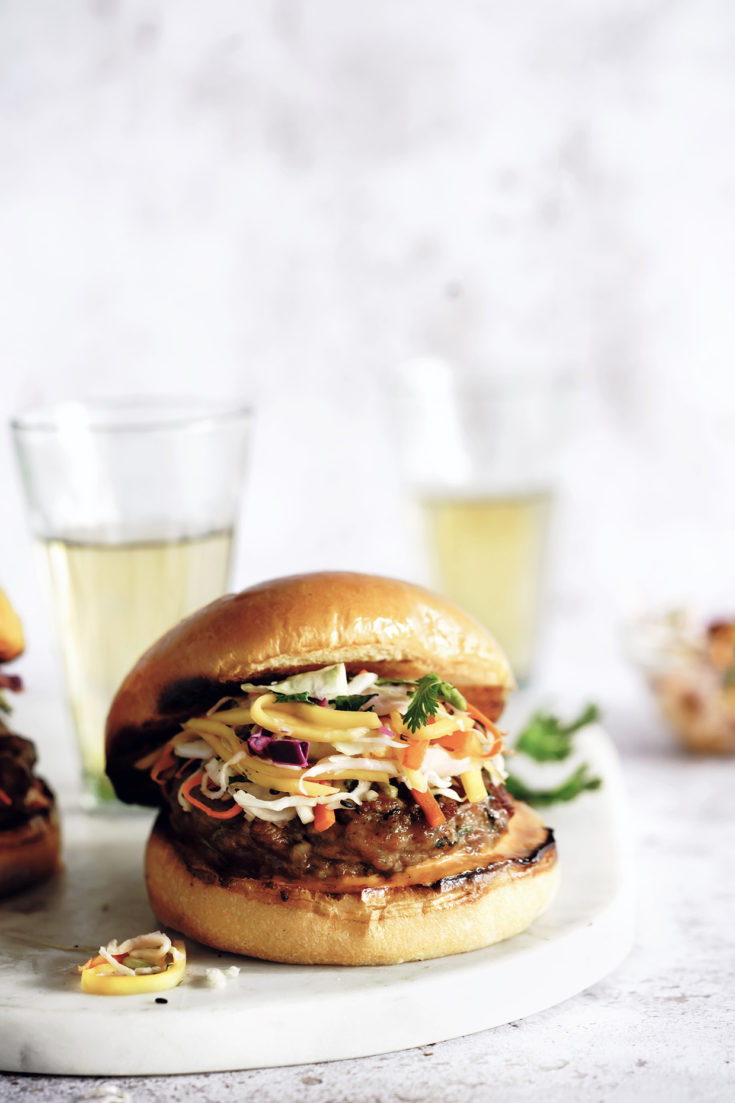 Prep Time 30 minutes

Total Time 30 minutes
Ingredients
2 lbs ground pork
2 scallions, sliced
1 garlic clove, grated
1 tablespoon chopped cilantro
1 teaspoon grated ginger
1 teaspoon paprika
1 tablespoon low-sodium soy sauce
1 1/2 teaspoon sesame seed oil
4 brioche buns
*1 cup Sriracha Aioli
**2 cups mango slaw
Instructions
Heat the grill to medium high. Tightly fold a paper towel, using a long pair of tongs, dip it in oil. Brush oil-soaked paper towels over the grates.

In a large bowl, mix the pork with the scallions, ginger, garlic, 1 teaspoon of the sesame oil, 2 teaspoons of kosher salt and 1/2 teaspoon pepper. Form the meat into four 3/4-inch thick patties.

Place patties on the grill and cook through to 165 degrees F, about 10 minutes total. Make sure to turn the patties half way through. Lightly toast the buns. Spread Sriracha aioli on buns, place patties on top and layer with mango slaw, serve immediately.

*Sriracha aioli ~ In a bowl mix together 1 cup mayonnaise, 2 tablespoons Sriracha, 1 tablespoon fresh lime juice, 1 garlic clove (grated), and 1/2 teaspoon kosher salt.

**Mango slaw ~ In a large bowl mix together, 1/2 cup thinly sliced cabbage, carrots, mango, red cabbage, 1/4 cup chopped cilantro and sliced green onions, 1-2 tablespoons lime juice, 1-2 tablespoon honey, 1 1/2 teaspoons rice vinegar.