Let's have some cake and coffee today and talk ALDI. My new favorite store. In fact, the coffee cake you see below is made from their ALDI exclusive brand flour, sugar and butter. It's not only delicious, but incredibly moist and tender.
My first exposure to ALDI was when they invited me for a two-day food and wine retreat, I couldn't turn it down.
Who cares if I had to snake my way through two and half hours of traffic. At the end, there was a tour of the Bridlewood Winery in Santa Ynez and a dinner menu crafted by Bon Appétit's executive chef, Mary Nolan.
Not a bad way to start a retreat, right? I had no complaints. In fact, I'm always amazed and thankful that I do what I love and I am able to attend events from brands that I love, that also include great food, wine and good company.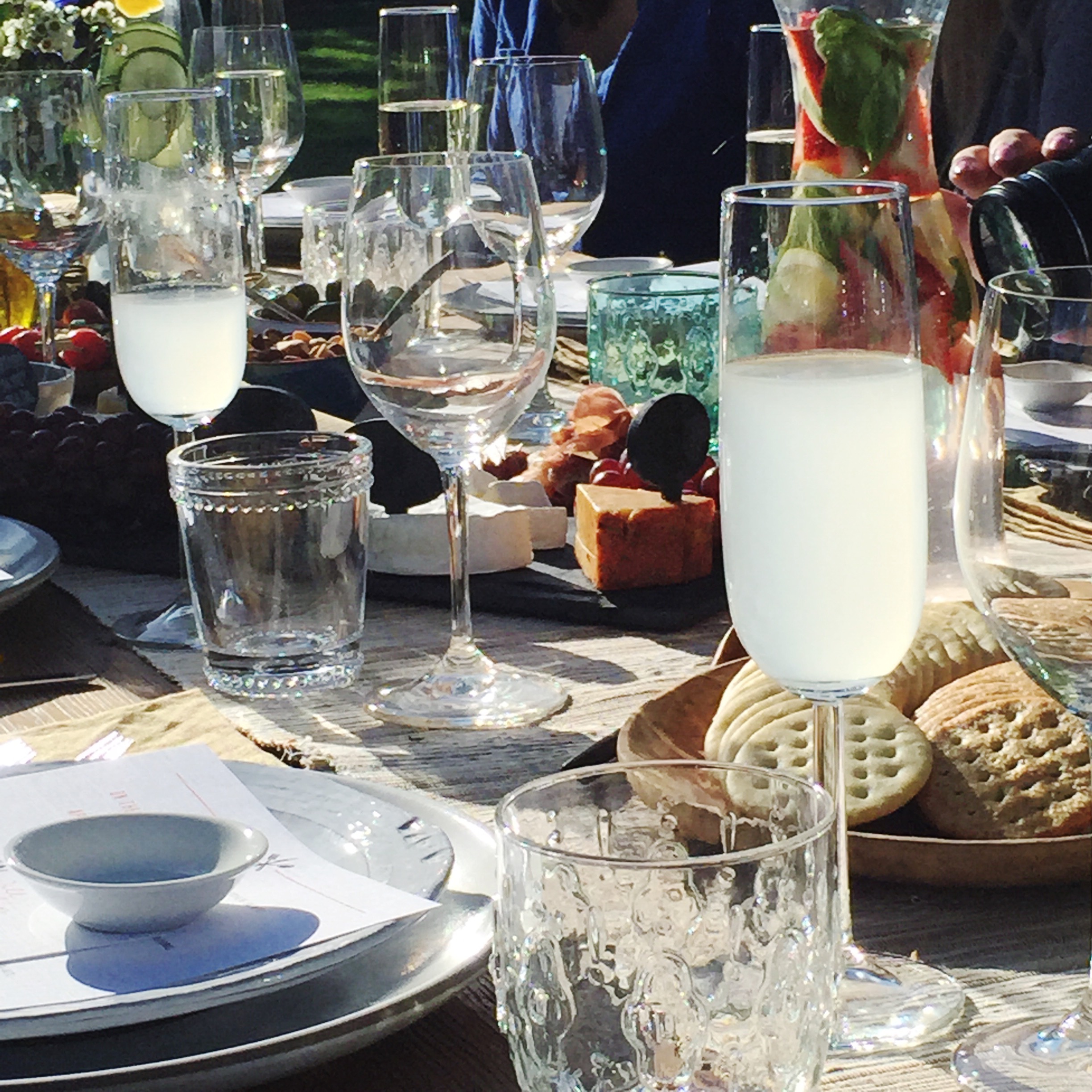 Take a look at that menu. All that food for less than $15 a person. The price is shocking enough, right? But if you were there, you would have clearly been blown away with the quality of the meats, cheese and produce.
Along with that, it was great to get a behind-the-scenes peek with a Q&A from ALDI marketing director, Liz Ruggles. She shared the history and vision of ALDI going forward. Their no-frills approach has allowed them to offer premium products at a price that is up to 50% less than what you see in most larger national chains. Aside from that, ALDI is now also offering an extensive line of organic foods under their SimplyNature line and gluten-free products under their liveGfree line. This means I don't have to go to several stores to get what I need. I'm always a geek for behind-the-scenes information, so I loved hearing everything Liz had to share.
That was followed by a blind taste test of ALDI brands vs. name brands in Bridlewood's Barrel Room. The idea was to choose which sample belonged to whom. But like the non-rule follower that I am, I did my own survey based on which one I preferred. Because lower prices or not, I'm always going to choose based on taste and quality. With those parameters, guess what? ALDI won out 90% of the time. Ah-mazing, especially, since their prices are up to 50% lower than the leading national brand.
Beyond doing the food sampling, there was also a wine tasting with Leslee Miller. I'm shocked to find that ALDI is able to pair quality wine with the prices they have. In fact you can buy a cabernet sauvignon from the Rutherford region for under $30. The other thing I love about their wines is the labels lists the notes. This makes it easy to pair the perfect wine for the perfect dinner.
It's crazy to me that one store has put this much thought and testing into each product to ensure that quality and price are equally paramount. Nothing is sacrificed for the sake of pricing. If you have an ALDI near you, then you know what I'm talking about. For those of you who are waiting for one to open near you—like I was—get ready, because they are carefully and methodically expanding.
I cannot wait to share part two of this series because I'll be attending an ALDI grand opening and creating a recipe to highlight the quality of their food.
**This is a sponsored post in collaboration with ALDI.us. Don't forget to check out their channels for more details and news of what's ALDI is up to: Blog.ALDI.us, Facebook.com/ALDI.USA, Pinterest.com/ALDIUSA, Twitter.com/ALDIUSA and instagram.com/ALDIUSA.
Yield: Serves 10
Coffee Cake
Ingredients
2 ½ cups Baker's Corner All Purpose Flour
1 cups Baker's Corner Light Brown Sugar, packed
1 cup Baker's Corner Premium Granulated Sugar
1 tablespoon Stonemill Essentials Ground Cinnamon
¾ cup Carlini Vegetable Oil
1 teaspoon Baker's Corner Baking Soda
1 cup Friendly Farms Preferred Sour Cream
1 teaspoon Baker's Corner Baking Powder
½ teaspoon Stonemill Essentials Iodized Salt
1 egg
1 ½ teaspoon Stonemill Essentials Pure Vanilla Extract
Carlini Canola No-Stick Cooking Spray
Instructions
Preparation: Heat oven to 350 degrees F. Lightly cover a cake pan with non-stick bake spray and dust with flour; set aside.
In a large bowl, combine and mix together flour, brown sugar, granulated sugar, cinnamon and oil. Remove 1 cup of mixture set aside.
In a second large bowl combine baking soda and sour cream, stir to combine; set aside (mixture will become light an fluffy). Fold in baking powder, salt, egg and vanilla extract.
Fold in flour mixture and whisk to combine. Pour batter into prepared pan and sprinkle reserved flour mixture on top. Bake at 325 degrees until cake is no longer wet inside. Remove from oven and allow to rest for 10 minutes before removing from cake pan.