**This is a sponsored post in collaboration with the National Pork Board. All opinions are my own.**
It's finally turning cold here in Southern California, and with the weather change I'm all about slow-cooker meals because (1) they are easy (2) they fill the home with the best smells and (3) it always produces rich dishes like this 5-Spice Pulled Pork.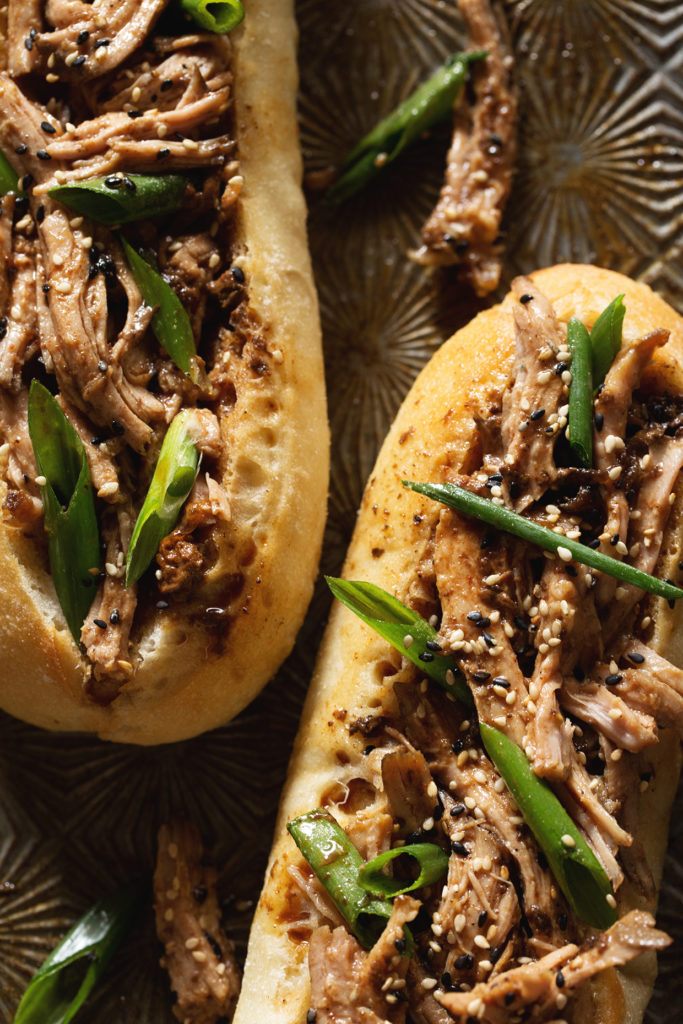 I know, I know, pulled pork is everywhere, and you have certainly seen it around here, but I'm excited about this new approach that has an Asian spin to it. 
Pork is where it's at in my kitchen lately. It offers a variety of cuts that lends itself well to almost any flavor. It's a good thing too, since pork is a trending protein that has chefs like Jose Mendin, a five-times James Beard semi-finalist, working it into Puerto Rican inspired dishes like this one here and here, and then smothering it in mojo sauce.
I love that pork is getting all this attention, because it means it's a win for all of us—more recipes and better prices. All things that will help me grow my dinner repertoire with ease. The only thing that could make things easier is if I can persuade my little ones to do the slow cooker prep.
My little guys are still a bit young for full dinner duties, but a slow-cooker seems pretty kid-friendly to me. Am I wrong? Let me know in the comment section and I would love to know when you started letting your kids cook a meal from start to finish.
Yield: Serves 8
5-Spice Pulled Pork
Ingredients
3 lbs. pork shoulder
1 tablespoon Chinese 5-spice seasoning
2 teaspoon garlic powder
1 teaspoon kosher salt
2 cups chicken broth
1/4 cup low-sodium soy sauce
1/4 cup brown sugar
4 tablespoon rice vinegar
2 tablespoon sesame oil
2 tablespoon honey
2 tablespoon Sriracha
Instructions
Sprinkle and cover the pork shoulder with Chinese 5-spice seasoning and garlic powder; set aside. Fill slow cooker with remaining ingredients, then stir to combine. Lower prepared pork shoulder into liquids. Turn slow-cooker on and set to low. Let cook for 6 hours. Remove pork.
The National Pork Board recommends to cook pork shoulder under tender (roughly 170 degrees). In the meantime, skim the sauce and discard any solids. Shred the meat and pour the sauce over it. Serve between a halved bun with scallions.