First week of school is tough. Everyone's trying to find their rhythm. Depending on where your kids are in school, you might have some that are ready to jump out of bed at the start of a school new year, or you might have ones that hit the snooze button hoping for an extra day instead of an extra 15 minutes.
Regardless of which ones you have, these five breakfast bangers will definitely help them shake-off the summer slumber.
Potato Waffle Sliders – A slider that skips the bun for waffle fries. You can throw a nearly any breakfast sausage patty in there and it will work. If it's bigger than the waffle fries, no problem–trim it or just halve it. Your kids won't mind the unpolished edges, they'll be too busy a admiring the waffle-fry-bun idea for the nano-second before it's scarfed.
Confetti Breakfast Hash – Want to save time on this one? Saute the beef (or your meat choice) the night before and toss it all together in a bowl, slap plastic wrap and refrigerate. The morning of, fire up the oven while the coffee is brewing and then pour the hash out onto a baking sheet – and done! It goes great as is, or go the distance and add a fried egg on the side.
Strawberry Smoothie Popsicle
– The ultimate time saver. Make these ahead and the kids can even eat these in the car while you carpool.
Breakfast Crunchwrap Supreme – Who doesn't love a good riff on a fast food favorite. This Taco Bell riff got a breakfast makeover with eggs, sausage and cheese.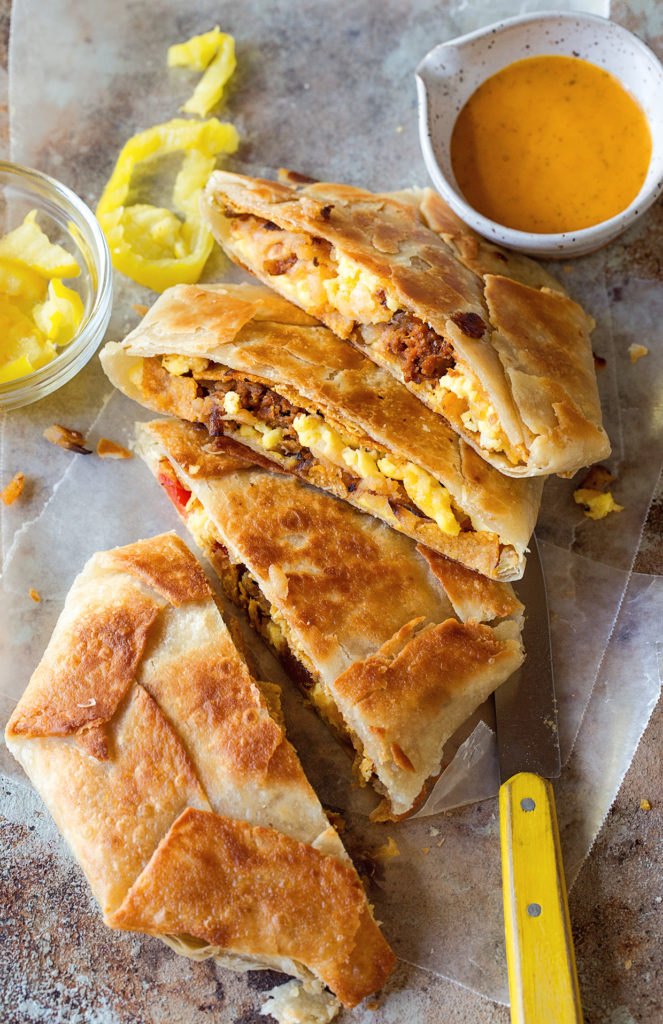 Chocolate

Chip Granola Cookies
– Breakfast heroics like this won't easily be forgotten. Chocolate chip cookies with granola rolled into it means you can totally have dessert for breakfast.