The 4th of July is one of my favorite holidays. Not only do I understand and appreciate the meaning of it to our great country, there's something magical about the entire day for kids. From swimming, to parades, to BBQs, to family time, to fireworks, I simply love the day. It's a holiday that is also about traditions, especially when it comes to food. And one of our traditions every 4th of July, for the last 5 years or so, is making a fun fruit treat with Cole. This is something Naomi has typically done in the past, but this year, I joined in the fun and continued the tradition by making these fun 4th of July Fruit Sticks.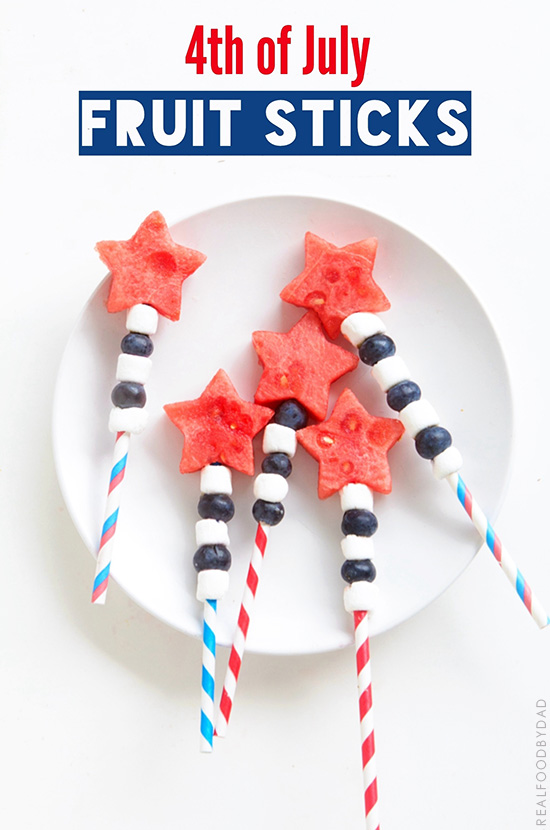 As you can see, this is a really fun & simple-to-make dessert and perfect for every kind of 4th of July celebration. I grabbed one of Naomi's star shaped cookie cutters for the watermelon and originally used a plain, wooden skewer. That is, until Naomi inserted her creative suggestion of using striped straws, a suggestion that was quickly adopted by our 7 year-old, Cole. Out-voted 2 to 1, the skewers were quickly replaced.
Didn't they turn out fun?! Our little resident recipe-tester, Cole, gave me a big thumbs-up with a mouthful of fruit and marshmallows in his mouth. That's all I needed to see. So whether you're at a backyard BBQ, spending the day at the beach or pool, or picnicking at a park, make a run to the grocery store and grab a watermelon, some blueberries and mini-marshmallows and have some fun making these. Then, sit back and enjoy your family, friends, food & fireworks, and give thanks for living in the greatest country in the world. Happy 4th!
Yield: 6
4th of July Fruit Sticks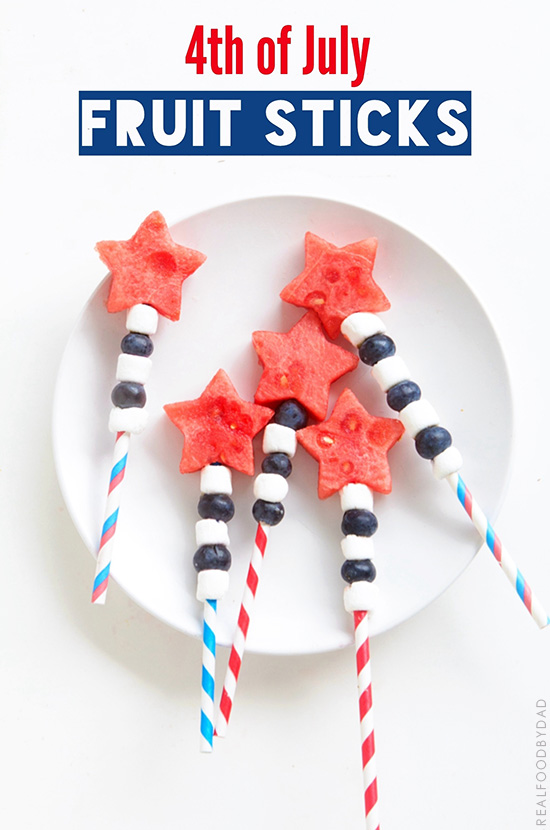 Ingredients
6 2 inch 2 inch watermelon stars (stamped out with a cookie cutter)
12-16 blueberries
12-16 mini marshmallows
6 striped straws or wood skewers
Instructions
If using straws, insert wooden skewer inside of straw to easily pierce the fruit and marshmallow. Place marshmallow on first to prevent fruit from slipping, add blueberry and continue layering with both twice more. Finish with a watermelon star on top.
**NOTES** (1) Make sure to use firm fruit for easy handling. (2) If using straws do not skip inserting a skewer inside as it helps to pierce the fruit and prevents the inside of the straw from filling up with fruit and marshmallow as you assemble the fruit sticks.